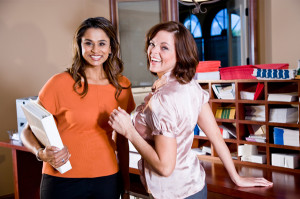 Workers are giving up on the labor force in mass numbers, and they're mostly women. But they aren't giving up forever; instead, women seem to be holding off their working lives to get more education. There are now — for the first time in decades — more women in school than in the work force.
In the two and a half years since the recovery of the current recession officially began, men age 16 to 24 have gained 178,000 jobs, while females have lost 225,000 positions, according to the Labor Department.
Allegedly discouraged by insufficient openings, 412,000 women have quit the working force entirely in the last two and a half years, meaning they're not looking for work and going back to school, New York Times reported.
But what does a working woman do when she wants to go back to school? There are work schedules, family schedules and finances that need to be considered when looking for new educational avenues. In a nutshell, time is our most precious commodity, and scheduling that time becomes essential to a successful start or returning to college. The first consideration for a working woman as she considers going back to school is scheduling.
Back to School?
College isn't what it was decades ago when the only option was to attend class in a lecture hall, surrounded by other similarly aged peers. College options now exist from the traditional to the virtual, offering opportunities for e-learning to working women. Distance education through online college resources, can exist in a class-by-class basis or as structured programs, making it a good choice for many working women.
Massive Open Online Courses
Massive Open Online Courses (MOOCs) are growing in popularity as online use increases around our nation. More of these free online college courses are being offered, providing a little to no-cost solution. Increasingly, MOOCs are a good opportunity for working women on a tight budget and time, but who also want to upgrade their knowledge base or skills. The benefits of participating are that these courses are free, and that taking a MOOC is a good way for working women to exchange knowledge and experiences after some years away from school.
Many of these MOOCs at the present time offer "certificates of participation" acknowledging your work. However, as the online course area evolves, more colleges and universities are expected to start offering academic credits for taking online courses with a particular institution or learning facility. This can be a particular disadvantage for a working woman looking quickly for academic credits.
E-Learning Programs
Another popular alternative for working women involves distant learning programs and degrees. These structured online educational resources provide a smaller ratio of student to teacher, opportunities for direct involvement with course instructors, and structured methods of feedback and assessment. Working women can experience the benefits of e-learning programs in a different way, such as earning course work credits, which still allows for flexible schedules and study times.
Some see a disadvantage of e-learning in the lack of personal interaction and new methods of thinking that can come from classroom discussions, where all course participants are seated in the same room.
In-Person Programs
For the working woman who envisions a more traditional return to school, in-person student programs at local colleges or universities offer the most hands-on approach to going back to school. Many colleges, especially community colleges, offer a large selection of courses in the evenings or on weekends to accommodate full-time work schedules. More university programs are offering hybrid programs that involve e-learning through online resources, coupled with in-person meetings at regularly scheduled intervals.
Benefits of in-person educational programs, for example, include direct engagement on a regular basis with professors and students, leading to networking opportunities and potential learning that happens as a result of discussions.
However, the costs of these programs can sometimes be out of reach for the average working woman, as well as finding ways to accommodate work and school schedules.
How to Pay
Financial considerations, for example, play a huge role in the decision to pursue educational opportunities. Applying for grants, scholarships or other benefits can take a lot of time and effort in the search and application process. Fortunately, helpful financial support sources exist that can assist successful women in their next life steps.
It's obviously helpful for a woman to reach out to her place of work first. Maybe your company can offer some financial assistance, if the intended coursework is helpful with your current or future work within the organization. The next step is to explore the opportunities offered at the financial aid office of the chosen school.
Financial aid advisors can help prospective students with tips and resources, and suggest specific organizations for financial aid help. Government funding resources are one area to explore. The Free Application for Federal Student Aid, also known as FAFSA, and can be found online. Or groups like Scholarships for Women, which provides extensive lists of scholarships and grant resources.
Women might consider organizations in their chosen field of study for alternative funding sources. Professional organizations are a good source of scholarship and grant potential. Womenworking.com offers an extensive list of associations and organizations that support women going back to school with scholarships. There are also charities like the Rotary Club or non-profit organizations. Religious, ethnic, cultural and interest-based organizations are also worth investigating as sources.
Working women might also consider taking a long-term approach to the cost of going back to school. Taking less classes over a longer amount of time can limit current costs for working women, whose budgets are already stretched. This approach may take longer to complete, but can help reduce the financial stress for women that are trying to balance current work, families and lives.