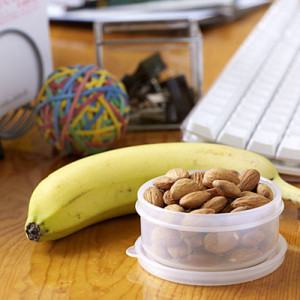 Dropping kids off to school, preparing for the presentation, getting ready for work…as if all of this is not enough that now you have to worry about "healthy" eating too. But who has the time to think about what to cook, let alone plan the entire thing beforehand so that you do not stray away from your path to unhealthy, processed food? Just go to a nearby restaurant and get done with it. There's more to life than cooking, you know?
Yes, there definitely is. But what about health? After all, there's a reason that Americans are breaking obesity records world over. You wouldn't want to add onto that statistic now. Do you?
It's okay if you're always trying to beat the clock but if you're compromising your health in the process, resorting to quick-fix foods every day, giving little or no thought to how calorie-laden or unhealthy it is, you'll have to find a solution for this sooner or later.
Yes, you're super busy and donning many hats. I get that! So to make things easy for you, listed below are a few quick to cook snack recipes for all you workaholics who're too stubborn to make time for yourself or your health:
1.    RB Sandwich – 2 lean roast beef slices, 2 wheat bread slices (low-fat), sliced tomato and lettuce and 1 tablespoon of low-fat mayonnaise. Easy to prepare, tasty and my favorite for those busy days when I don't know if I'll have enough time to grab a bite or not. Even when you feel like having a cup of melon with this, the calorie count comes down to a very happy 325 calories.
2.    Apple Cheese Wraps – Fat-free cheddar cheese, raisins, apples, little brown sugar and a pinch or two of cinnamon, is all you need to get started. Put all of these in a pan and heat them. Place the mixture on the tortilla and wrap it up. Slice this wrap into half and enjoy it while you're working.
3.    Grilled Chicken Skewers – Damn! Just writing about this is making my mouth water. Of course, you must have tasted this at least once. And while a lot many of you probably know that it's a healthy snack for weight watchers but a lot many of you sure don't know how easy and quick it is to cook this yummy finger food.
Arrange for diced chicken breasts, vegetables, citrus marinade, and olive oil. That's all you'll need for this recipe. Marinate the diced chicken breasts for a few minutes in citrus marinade. Next put the marinated pieces on the stick and brush them with olive oil. Finally, grill them thoroughly. Add a few drops of lemon once it's ready and enjoy them once it's cooked.
If you're wondering about where would the vegetables go, you can simply chop whichever veggies you like (bell peppers and onion usually make good add-ons) and toss them in with chicken breasts at the time of marinating. Some people like it with vegetables, some like it without them. It's your call.
4.    Polenta Served with Sun-Dried Tomatoes – Buy cooked cornmeal or pre-cooked polenta tubes to prepare this dish and save your time. Slice polenta into one fourth inch each and put it on a baking tray, coating it with the cooking spray. Let it broil until it takes on the brown color.
Take 2 cups of sun-dried tomatoes, 1 tbsp of fresh parsley, 2tbsp capers, one finally chopped clove of garlic, and 4 tbsp of olive oil. Put all of these in the food processor and blend them well.
Next, cut the polenta rounds into four parts and use the prepared tomato mixture as a topping to cover the wedged. The calorie-intake of this dish is a jaw-dropping 15 calories ONLY.
Apart from the above-mentioned snack recipes; there are more common recipes like the deviled eggs, lettuce wraps and hummus that perfectly fit your busy lifestyle and are still nutritious and low-calorie options for you.
If all else fails or sometimes when you're too busy to do any of this, you can take advantage of Bistro MD savings for 2013 or Diet to Go coupon for 2013 to order for healthy meal deliver door-to-door services that especially prepare food for weight watchers.
Preparing a bigger batch of food and freezing it for consumption during the weekdays is a great way to avoid any lapses. You can also keep a few nutritious snacks handy, like celery sticks, dried fruits, trail mix, nuts, fruits, et al.  These options make for a good replacement for a bite when you're too busy to even pause for lunch at work.
Client lunches are also a common reason why many of us are left with no option but to eat unhealthy food we otherwise want to avoid. Broiled and baked is always a better option than fried. Cutting down on portions can also make a huge difference to the calories you consume.  For example, instead of caring about getting more in less money (supersize meals), your concern should be, isn't medium size meal sufficient to fill me?
Sure, there's a lot more that can be added to this but then it's action that makes more difference than anything else. Get started with these and you'll find a way for yourself.
Marcia Calleiro is the proud owner of a freelance writing business. Calleiro loves cooking but owing to her busy schedule, often orders from her local diet meal delivery service as they serve fresh, tasty and nutritious food. She is currently a contributor to Damsels in Success Website, a site that talks about almost all issues that are faced by women entrepreneurs in today's fast-paced life and how they can balance both their professional and personal life. In her free time, she likes square-foot gardening, playing games on her Xbox, and spending time with her family.