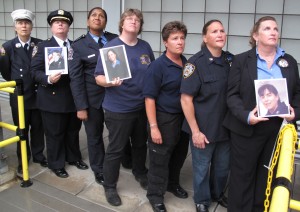 11 years ago today the world watched as the attacks on the World Trade Center, the Pentagon, and Shanksville occurred. It is a day that will forever remain in the hearts of Americans as a time when we were scared, sad, and heartbroken. However, it was also a time when we came together as a nation and have continued to prevail ever since.
Today, we remember the heroes, the victims, and their families. As I was perusing the Internet this morning, reading stories and articles remembering this day in history, I came across this story about 3 women who gave their lives in efforts to save the lives of others.
NYPD officer Moira Smith, PAPD Captain Kathy Mazza and EMT Yamel Merino were the 3 women featured in this moving story of 3 women heroes and the other women that were injured.
The article also talks about the thousands of women who helped in the rescue efforts and offered their time and services. Women played a huge role in the recue effort as well as the clean up and aftermath.
I am inspired daily by the strong women in this world and how they are able to keep themselves going, as well as motivating everyone around them.
Today, we honor the heroes and victims of September 11th.