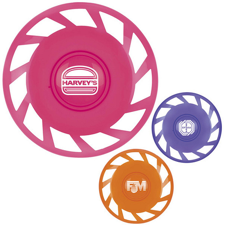 You've been toying with the notion of getting the word out about your company or brand with promotional products. Aside from being a relatively inexpensive option, choosing the ideal promotional product is a fun way to get noticed. Conversely, a poor choice can have a disastrous effect on your company or brand's image. When it comes to choosing the ideal promotional product, remember to remain relevant, classy and memorable.
Do

Keep Your Recipient in Mind When Choosing a Product

The process of choosing the correct promotional products begins by getting to know your consumers more intimately. For instance, are your consumers mainly women between the ages of 25 and 40 who have a college education and children? Then a book light, custom water bottle or a fleece vest featuring your company's name or logo is a great option. On the other hand, if your main demographic is males under the age of 15, chances are a pink, fleece-lined vest isn't going to make this core group remember your company fondly. A quick survey of your consumers is a great way to narrow down your choices. If your consumer base is broader, consider other popular, tried-and-true options, including pens, tumblers or blankets.
Don't

Forgo Quality for the Sake of Quantity

You're preparing for a massive trade show and need to choose a promotional product that accurately represents your brand and can be purchased in larger quantities because you want to hand everyone you meet the item. In the end, you decide a less memorable, albeit more budget-friendly, option is the best way to get your company noticed. Unfortunately, you might have just doomed your promotional product for a quick glance followed by an immediate trip to the nearest garbage can. When in doubt, always choose a smaller quantity of durable, higher-quality products over a larger bulk order of forgettable pieces.
Do

Pick a Product That Makes Sense

Here's a scenario that might not represent your specific needs, but you'll understand the point just the same. Let's say your company manufactures and distributes hunting and fishing gear, including poles, lures and deer stands. An obvious choice for an ideal promotional product might be engraved duck calls, embossed fishing lures or fleece coats featuring your company name and logo. Instead, you decide to display your brand name or company website on oven mitts, zebra-print throw pillows or makeup cases. This example might seem outlandish, but it clearly illustrates that choosing the wrong promotional product can confuse, bewilder and even alienate your potential customers.
Do

Stick to Your Budget

Compared to several other effective advertising methods, establishing your brand through a thoughtfully chosen promotional product is a relatively inexpensive and fun way to interact with your client. You want to make a great first impression, but this should never be done at the expense of your budget. Instead, determine an advertising budget and let it dictate your final decision. With a little creativity, you'll easily find a way to positively advertise your company without blasting your budget.
Don't

Forget Your Company's Website

You've chosen the ideal promotional product that doesn't break your budget and makes sense for both your brand and consumers. Your company logo and name is prominently etched, stamped or embroidered on the product, and you're ready to hand out the product. Unfortunately, you've just made a common mistake that could prove costly: forgetting to include your company's website. A potential customer clearly remembers your name and logo, but where will he go for further information? If possible, also include your company's address and telephone number to make accessing you easier.

Finally, take your time before making any final purchases. Always pay attention to how your company's brand, logo or website address is displayed. Work with the distributor and use your creativity to determine the most attractive layout for your product. When in doubt, always go with color over black or gray and choose a font that's easy to read.

Image from Flickr's Creative Commons

About the Author: Samuel Matthews is a guest blogger and small-business owner. He is currently in the process of choosing a product to promote the grand opening of his cupcake shop.