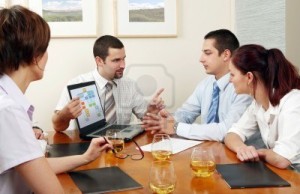 Whether you are an entrepreneur looking to upgrade your home workspace into an office environment, you want to shuffle your existing office layout around, or you simply want to move into a bigger office, it is important to remember your employees during this process. Productivity is key to your profit margins and creating a happy workforce is essential! You might be surprised how much of an impact the layout of your office can have.
Measure Up
Before you start flipping through catalogues or searching for furniture online you need to know how much space is available within your selected premises. Make a scale drawing of the office, or hire an interior designer or architect to do so – this will allow you to make cut-outs of different types of furniture and place them in a variety of positions. Try out different floor plans before you purchase a range of new items in order to save both time and money. This also means that you will have to measure the space so you won't run into problems later on.
In order to keep employees content you must ensure that they have enough space to walk around, room to manoeuvre office chairs at their desks, plus the opportunity to hold conversations to allow breaks in the working day.
Selecting Furniture
If the office is open plan, you will have a choice between desks facing each other and cubicles. Although cubicles ensure that distractions are minimal, they are also not conducive to encouraging conversations about work and can restrict movement within the office. Desks are a lot more popular for many open-plan offices and it was even reported by HR thought-leader Dr John Sullivan in 2012 that Google were responsible for the "death of the cubicle" with their scientific approach to the workspace. New ideas can be shared and innovation is encouraged using the desk model, while cubicles act as a physical barrier to eye contact and communication.
Additional items such as printers, scanners and fax machines should be placed within peripheral areas and since these can be loud you should try to avoid having them too close to workers where possible. Think about health and safety carefully – is your furniture stable enough to support them?
Colour Schemes
Colour schemes are also important within the working environment, for example going for a very bold colour like red or orange has been proven to encourage productivity but may cause employees to feel more stressed, increasing heart rate and even blood pressure while green and blue are said to give off calm and relaxing vibes. Why not go for a combination? You should also think about the lighting, for example are your windows large allowing plenty of natural light to come through?
Make sure you consider your office space with care and you will reap the benefits in the long run!