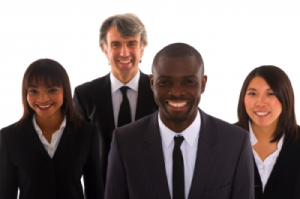 A guest lecture at your business serves a purpose, whether to motivate, to educate or to inspire new ideas. Don't let what your speaker has to say be forgotten once the talk is over. Maximize the time and the money you spend on your speaker by applying the speaker's suggestions at your business.
Begin Before the Lecture
Before the presentation, you should contact the guest speaker or the speakers bureau that represents him or her, to see what suggestions he or she has for making the lecture as interactive, informative and understandable as possible. Your speaker may suggest prepping your employees for the topic beforehand as a way to engage them.
Plan a Workshop
In addition to prepping your employees before the lecture, consider how you want the day of the lecture to unfold. Will the speaker be able to stay for questions or to supervise workshops? If the speaker has to leave immediately after his or her speech, would you be willing to set aside time after the presentation for an informal luncheon and workshop?
If you have a workshop, focus on making it interactive. Have your employees divide into teams and turn the experience into a friendly competition. Ask questions about how each team would like to apply what they've learned to their work projects and give out small prizes or donate money to charities each time a team gives an informative answer.
Make the Content Easily Digestible
At the end of the lecture and the follow-up workshop, you should have your employees walk away with easy-to-remember points from the lecture. The speaker may help you come up with catchphrases that characterize the lecture's point. For example, a lecture on leadership may have stressed the need for teamwork, so your easy-to-digest point may be something along the lines of "No one leads without a team behind them." Even just a word like "create" or phrase like "outside the box" could capture the lecture's spirit.
Remind Employees of the Key Points
As work returns to the regular routine, remind your employees of the take-away points from the lecture daily. Put the points in a mass email, an e-newsletter or on the company website. Talk with your managers and department heads to see how they've reminded your employees to keep those ideas in mind whenever they tackle new projects. Encourage employees to contact you if they have any questions about the lecture and how it applies to their work.
Hold a Follow-Up Meeting
A week or even a month after the presentation, conduct an informal meeting with your employees in small groups. The small groups will allow you to approach the topic on a more personal level and ensure that every employee is heard. It will also help to organize the groups by department, as workers in the same types of jobs are likely to come up with similar answers.
Ask each group how they've applied what they learned to their work over the past week or month, and what they think worked and didn't work. What you learn from your employees after they've had time to apply what they learned may also help you decide what other kinds of guest lecturers you want in the future.
Every business that hires a guest speaker should plan to get the most out of the experience. To do so, you have to find ways to apply the speaker's suggestions to your business practices in a way that truly works for your goals. Focus on getting your employees engaged in the lecture before, during and after the guest speaker has made his or her presentation.
About the Author: Javier Hartgrove is a contributing blogger and public speaker. In his previous career, he managed his own small business.