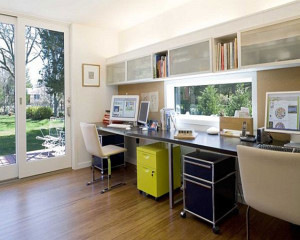 Creating a space for creativity, productivity, and growth can be both exciting and stressful. You want your office to serve several functions and to be a place you enjoy spending your time. The unfortunate part of fully furnishing an office can be how expensive furniture and decorations are. Luckily, there are ways to create your perfect space while not breaking the bank. Here are some of our tips on furnishing your office on a budget.
Ask around for free furniture. Try posting on social media that you need a desk or chair.  You'd be surprised how many people have pieces of furniture lying around that they aren't using. You can always spruce up an old desk with a nice layer of paint.
Look through the classifieds. Scour craigslist and your local classifieds for any free or cheap decorations or furniture you can find. Again, these are easy to re-work from old pieces of junk into cool statements pieces. Plus, there are some gems to be found if you take the time!
Rent furniture. Renting is always a great option if you want cheap and great looking furniture for your office. Rent-A-Center has some awesome options and you can browse through them on their website.
Don't over think it. You don't need every wall to be covered with art pieces and every desk to have state of the art desktops. Simple is good and you can do a lot with just a few things in your office.
Get crafty. Try making your own artwork and decorations. Go to your local craft store and pick up some canvases and get your craft on. It will be fun to add the personal touch to your office and it will save you tons of money.