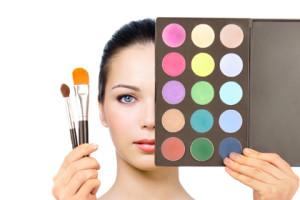 Cosmetics have been part of a woman's wardrobe ever since time immemorial. In the ancient days, only the royalty ever bothered to put on makeup. They do so simply because it is part of court decorum. These days, however, the days of royal exclusivity are over and make up has since been made available for all women regardless of social standing and financial status. Anyone can wear make-up these days if they want to, or if the need arises.
Of course, like in most things, women have a choice whether or not they should wear makeup to an occasion. They also can decide for themselves the volume of makeup that they will apply. If they do not want to wear any makeup at all, then that is their prerogative. One cannot be forced to wear makeup because it actually does not make a significant difference outside of artificially changing how a woman looks, or so they think.
This brings up the question, "When does a woman actually need to wear makeup?" If you do your research, you will find that women are, in fact, advised to put on makeup when they go to work. Most of you will probably say that putting makeup on is an extra burden that eats up precious time, but what you ladies do not know is the fact that there are some benefits that one gets to enjoy if they take the time and make the necessary efforts to apply some make-up before they go to work. Yes, this can be very surprising to some, but there are indeed some advantages that women can get out of putting on some mascara or blush-on on their faces prior to heading over to the office.
A Study Reveals That Makeup Can Enhance One's Chances of Workplace Success
Feminists are going to have a field day debating this, but a study undertaken by a Harvard professor actually reveals that women can make the most out of their careers with the aid of makeup. The study was reported in 2011 by New York Times correspondent Catherine St. Louis. It was led by Nancy Etcoff – a woman, not a man! – and was funded by Procter & Gamble. I had raised eyebrows when I first read St Louis's article in the NY Times but, after careful consideration, I think the study had some good points that I thought I needed to share with you ladies through this blog.
In the study, Dr. Etcoff had three models photographed wearing varying intensities of makeup. Before you claim racism or discrimination, I would like to point out first that Dr. Etcoff's team had specifically chosen the models according to their skin colour – one group is made up of African-Americans while the other two groups are Caucasian and Hispanic, respectively.  The models, 25 of them in total, were then presented to the subjects of the study. Reading the article back then, it came as a shock to me that most of the subjects considered those models that wore make up received the best scores from the participants for trustworthiness and competence.
Dr. Etcoff is quick to point out that it is not only the makeup that makes women look competent in a professional capacity. Makeup triggers a placebo effect, by which the lead researcher means that applying makeup makes certain women confident. I think the rationale behind the findings is that confidence that make up can bring. Dr. Etcoff adds a nice touch to the experiment by forbidding the subjects to look at the mirror, and that makes sense as the model's perception could ruin that confident look for the picture.
So, before we go out of topic, you ladies should start thinking about how makeup can be quite advantageous in your goal of succeeding in a workplace. In my opinion, however, I believe that it is not the makeup but the confidence that a lady feels and outwardly exudes when she is wearing makeup that catches the attention of her counterparts.
Finally, Dr. Etcoff's research states that, though makeup plays a part in gaining the trust of a lady's office counterparts, the type of makeup will nail it. Glamorous or sensual make-up, the professor says, could make one look attractive but will not build up on the trust factor as time passes by.
About the Author:
While he certainly does not wear makeup to work, Ted Hunter does find ladies in the travel agent's offices attractive when he comes to have them reserve a flight or cheap all inclusive holidays for him. Ted is a regular customer of Travel Republic, one of the largest travel agents in the United Kingdom.