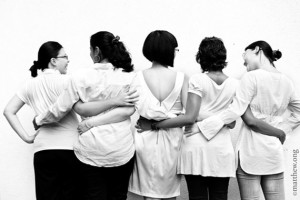 The saying "no man is an island" applies to women as well. Building a strong community of friends requires work but the rewards are well worth the effort. Inspire My Life's Women's motivational programs help you forge strong relationships with others who share your passion and belief in yourself. We work together to bring you programs that inspire, motivate and challenge you to grow both as an individual and as part of a supportive group.
My Communities
Communities are not only the people who live in our neighborhood. You also have communities built on common interests. A group of women may begin to meet to discuss their health, their goals, managing jobs and children, or to focus on making a world change. Many of our greatest charities and philanthropic organizations were begun by communities of women just like you.
You probably already belong to several communities, even if you were not aware of the fact. The people with whom you work, socialize, or volunteer are all part of your individual communities.
Making New Communities
Do you have a dream or goal you would like to achieve? It is possible that you can do it yourself; it is more likely you will need some help. This is where forming a new community becomes vital. When you join forces with others who have the same goals as you, your collective strength becomes greater than the sum of its parts.
Communities are not only about reaching goals, however. They are also about offering support to those who may need it. By sharing each other's burdens, your community makes possible a greater strength on the part of each of its members.
How Forming a Community Can Help You
One of the biggest benefits of forming a new community is the personal satisfaction and growth you receive from the effort. By sharing your time, talents and unique personal strength with others, you can grow personally and become better at what you do, and thrive knowing that others know that and respond to it, as well.
When you offer your help to others, amazing things begin to happen in your life. You become part of an effort bigger than yourself, and you get to see first-hand the result of your labors. You never know just how much of an impact your offer of help will have on someone else.
You may be the one person that someone needs to see or hear in order to solve a problem and lead a better life. This is a powerful motivator, because all of us have a deep need to be helpful and useful to others.
How Can I Form a Community?
Sometimes, communities simply "happen", but in most cases they are planned. Think about the things that you find important; do you see a need for help or change in this area? Once you have defined your goals, reach out to others with similar interests. The Internet has made this nearly effortless. If there is already a community that meets the need you have defined, become a part of it. Most people are happy to welcome new members into their community provided these individuals are willing to work together with others for a common goal.
Becoming part of a community means more than just showing up for a meeting. Embrace the communities around you and you will become a vital and important part of a group that is working toward a common outcome. Inspire My Life's Women's programs can help you achieve your personal goals of growth and change while bringing you together with other women who can become a vital and integral part of your life.
This guest post was written by Terry Phelps, a freelance writer who is working her way to writing full-time to support herself. She lights up when discussing personal development and foundation belief change.