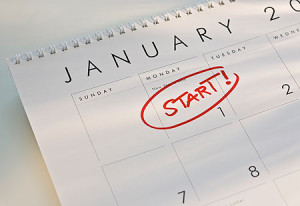 At the beginning of every year, we get the chance to start over. We have a clean slate once the clock hits midnight on January 1st and it's time to begin again. However, most of us have lofty goals of working out, pursuing our dreams, reading more, and eating healthier. These lofty goals usually last about a month before we are once again swallowed up by the year and fall back into our old habits. However, because it is again the beginning of a new year, we have some tips to help you set and accomplish realistic and meaningful goals for your career and business. We hope these tips carry you into your best year yet.
Write down your ultimate goal for your business. Before you can set goals for your next accomplishments, it's important to understand where you want to end up. By knowing your ultimate goal, you can then begin to lie out the stepping-stones of how to get there. So this year, realize your ultimate goal and lay the first stepping- stone.
Create mini-goals. It is much easier to accomplish small goals as part of a bigger goal. Break down your main goals into smaller ones in order to not get discouraged or unmotivated.
Adjust along the way. If you find your mini goals to be too easy or too difficult, adjust them accordingly. It's important to understand yourself and your stress levels. You want to push yourself, but you don't want to over do it. It will take time to find the right balance, but it will come if you are willing to be flexible.
Get over the hump. Working and achieving goals isn't easy and sometimes it's not fun. If you recognize that there will be boring and hard times, you will be better going into it. Just remind yourself that you have wanted this for a long time and if you keep going you will get there. Get over the dull hump and you will be on the downhill slope towards achieving your goals.
Reward yourself. Make sure to reward yourself when you accomplish mini goals and especially when you accomplish your big goals. It can be simple little things, but rewarding yourself with them will help you stay motivated on the path towards achieving your dreams.