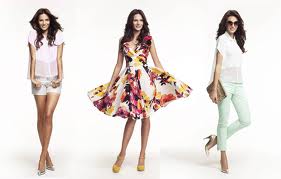 Spring is a time of growth and renewal, a time to shed winter's layers and embrace the feeling of the sun on our bare skin. Flowers bloom, energy levels rise and attitudes are optimistic. Love is in the air.
Fashion designers have embraced the optimism of this season by unveiling some exciting new and recycled styles. According to the Macy's Spring 2013 trend report, the top trends for spring are a reversal from last fall's warm, ornate and bejewelled styles; this spring's code words are fresh, feminine and full of contrast. Designers have pulled from iconic photography and the 'it' color of the year to influence their best designs for this spring.
Elements of Floral and Lace
With people spending more time outdoors, shorter dresses are back. Bright florals are definitely in, reflecting the gardens that are showing off their best right now, and bright colors are showing up to chase the winter chill away.
Lace can be found in trims, dresses and accessories to complement spring pastels. Bright eyelet lace makes a simple sundress ready for a garden party, while lace cutouts in leather makes an edgier number more feminine.
Ruffles are big this spring as well, as the focus shifts to soft, flowing styles perfect for the soothing winds that comes with spring temperatures. Soft dresses and ruffled skirts mimic the array of blooming flowers, while frilly ruffled tops can hide a thicker winter middle. Peplum is still going strong with spring fashion, accenting waists and taking attention away from hips—the overall effect helps create an hourglass figure. Find peplum shapes in a selection of dresses, skirts and tops.
Stripes are Back
Black and white is another big trend this spring. Designers drew inspiration from the iconic photographs of Helmut Newton, as we saw in the fashion mainstay, Vogue. Black and white is popping up everywhere, from contrasting lace panels, stripes and geometric prints, and the color combination is making bold statements in accessories.
Stripes are big this year, too. Patterns range from strong black-and-white versions to an array of colors on a candy-colored striped skirt. Mixing prints is still in, so pair your stripes with anything from a neutral, solid color to a bright floral print.
Iridescence is another big trend this spring. That rainbow-esque glimmer graced runways in small doses and big ways. Pick a piece that will highlight what you want to show off: a shiny bet for a great waist or a skirt to highlight legs. Or grab an iridescent accessory for a more conservative way of jumping on this spring fashion trend.
And the Color of Spring Is…
Arguably the biggest news for spring is the 'it' color, mint. It's a sweet pastel version of emerald, the Pantone Color of the Year. Mint is perfect for blouses, dresses and enamel jewelry—pair it with emerald colors for a tonal take on the trend, or contrast it with bright red or orange for a fun, attention-grabbing outfit.
All pastel shades will complement the floaty skirts and retro-inspired fashions that are coming out in softer palettes. Add a bright accessory to add sass, black and white to add contrast or balance pastels with a nude piece to create a soft silhouette.
Color Picks
Whether it's a creamy blouse, a bright pink dress or a sweet floral print on a scarf, color is a great way to brighten up your wardrobe. When deciding trends and themes for their fashion collections, designers take into account how different colors work with and against each other. Here are a few ways you can use color to your advantage this season:
Color blocking uses contrasting, vibrant blocks of color to generate some "wow" and highlight parts of the body. Pair unlikely color combinations: a soft yellow with a bright purple, emerald with a light pink, a bold blue with coral or orange details. Contrasting colors highlight what you want to bring attention to and adds interest to an outfit.
Use complementary colors (those across each other on the color wheel) and analogous colors (those close together on the color wheel) to contrast the season's pastels with bright punches of color.
Try different shades of the same hue to throw together an outfit.
Spring is a fun season for fashion. Make use of the array of choices available in magazines, online and in retail stores. Pick out a flowing pastel frock, a striped shirt or a bold graphic bag to add some fun to your wardrobe and step out under spring's sunny skies—because before you know it, it'll be time to organize your summer work wardrobe.