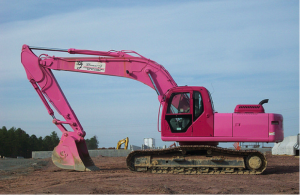 The New Year is right around the corner and it's time to start thinking about those resolutions. Instead of the lofty goals that can take weeks, even months, to accomplish (working off those holiday pounds, anyone?) why not start the year off right with projects that have a clear beginning, middle and end?
You would be amazed at how many small business improvements can be completed within a single weekend. Not only that, but having the right tools takes the intimidation out of the most daunting undertakings – and makes them fun! Now, with consumer-friendly power tools available for rent from your local home improvement store, "do-it-yourself" projects are more popular than ever.
These five DIY renovations/updates let you face your fears of heavy-duty machinery and improve yourself and your office, all at the same time.
Carpet Cleaning. Sure, the vacuum and the carpet are old pals, but how often do you actually deep-clean your carpets? Shampooing your carpets not only removes stains, smudges and scuffs, but it also deodorizes them and leaves them smelling fresh and clean. The best part is that this is one of the easiest and quickest updates you can do for your office – and you can totally do it yourself.
Indoor carpet cleaning machines are available to rent, with complete instructions, from your local "big box" department stores, hardware stores, and even some grocery stores. They come with a removable bucket/tank for ease in filling/emptying the water. There are a few things you should keep in mind: you will need separate carpet shampoo (Dawn won't cut this grease), so be sure to grab a bottle before you go.
Also, make sure to vacuum the carpets before washing them and ensure you have enough "dry time" before you need to walk on them. The recommended time is usually 24 hours, although fans cut this down considerably. Finally, many places will charge you another day's rental if you return the machine "dirty" so rinse the tank inside and out and give it a quick paper towel wipe down before you return your rental.
Fresh Coat of Color. Nothing brightens up a room faster than a fresh coat of paint. An airless paint sprayer can coat the walls of a room, or even an entire office, in a fraction of the time of traditional rollers. You will still need paintbrushes for the trim and molding/baseboards, but with the sprayer, an entire room can be completed in a snap. Just be sure to use an interior paint that is compatible with the sprayer; "paint and primer in one" will also save a ton of time and effort.
Wall paint with a semi-gloss finish (I prefer glossy for the trim) is great for at least two reasons. For one thing, it is easy to clean if your office is high traffic or frequented by children. Additionally, if the room you are painting has minimal access to natural light, the semi-gloss finish catches and reflects every beam it comes into contact with, thereby creating the illusion of a larger, brighter room.
Tile away. Whether it's the front entry, the office kitchen, or the bathroom, tiling is a great way to marry function and form. Renting a tile saw (also called a "wet saw") makes all of this possible – it is also an absolute must to give you those professional-looking lines and angles.
One of the most important things to keep in mind with tiling: measure twice, cut once. For beginners, maybe measure four or five times, cut once. Drawing your design on graph paper allows you to create an easy-to-follow scale so you can keep track of how much square footage of tile you need – always add a few extra feet, just in case! Another great way to ensure minimal waste is to lay out your design on the floor with your tiles before you cut them. These are just a few tips: an associate at your local home improvement store is your greatest asset!
Sand the floor. If you're working with wood floors, perhaps the best thing is to improve on what you have. A great option is a rented floor sander. These are not as "heavy duty" as your drum or rotary sanders but they are perfect for those smaller, less intense jobs.
Be sure you have plenty of ventilation whenever you use a sander: although a good floor sander will cut down on dust, you can never have enough fresh air to breathe during this process. When you are ready to stain or paint the floor, make sure you don't paint yourself into the room – start from the furthermost back corner and work your way out the door. Finally, make sure you have sufficient dry time before you walk on it.
Spray and Wash. Finally, maybe all you need is to spruce up the outside of the building. For this undertaking, a portable pressure washer does the trick. The engines and power output are different based on the project, so be sure the one you rent is compatible with the surface you intend to spray. For example, for decks and laminate/wood siding, a 2,000 PSI sprayer works well, whereas you would need one with 3,500 PSI for concrete and bare metal.
No matter your experience with home/business improvement, men and women agree: the only thing more empowering than power tools is using them yourself to get the job done. Pick a project, rent the equipment and you now have an answer when someone asks: "what are you doing this weekend?" So, quit stalling…let the sweat equity begin!
Chris Long is a Home Depot store associate in the Chicago area, and writes online about truck rental tips, carpet cleaner rental tips, and other equipment tool rentals.