The summer months bring about an air of casualness and freedom. We can run around outside sans jackets and boots. However, this casualness often tries to sneak itself into the workplace with sounds of flip-flops and the sight of upper thighs that should never be seen in public. People can get summer living wear and summer office-wear mixed up.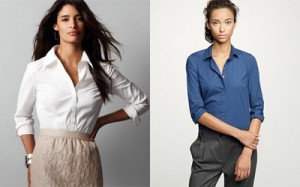 Don't:
Wear flip-flops. These are unprofessional, way too casual, and people will not take you seriously. Leave these for days at the beach or lake. Don't wear them into the office.
Wear clothes that are too revealing. We know it's hot, but you don't have to bear all to stay cool. Avoid spaghetti straps and short skirts.
Wear shorts. Even if you think they are dressy shorts, don't wear them. Shorts are generally not appropriate for work at any time, unless you have super casual Fridays.
Wear mostly dark clothing. Dark colors absorb light and will make the summer heat feel even hotter. Plus, it doesn't exude the fun and lively atmosphere that is enjoyed during the summer.
Do:
Wear bright colors. You can have more fun with patterns and colors in the summer. Just make sure that you don't go too crazy and you match the appropriateness with your work atmosphere.
Wear lighter fabrics. Cotton and linen will keep you cooler and allow you to still dress appropriately.
Layer and keep a jacket in the office. While it's warm outside, the AC is usually blasting in the office. So make sure to have something to keep you warm while you are inside all day.
Wear modest summer dresses. These are usually conservative enough for the office, but still let you have a summer alternative to the usual blouse and pencil skirt.