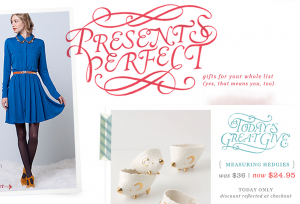 Are you running out of ideas for gifts for your friends and family? It can be overwhelming to find the perfect presents for everyone, but luckily there are some great gift guides out there to help you out. Here are the ones we are loving this year:
The Everygirl
This holiday guide gives you 8 different guides all for different categories. So whether you are looking for a gift for your mom, friend, toddler, or man friend, they have it. We love this guide because it has a range of prices and all of their picks are classy. You can't go wrong with any of these.
A Cup of Jo
Every year, Joanna Goddard brings the world her holiday picks for sisters, mothers, husbands, and children. She has a knack for finding fun and a cool thing for everyone, so you will definitely want to stop by and see what she has conjured up this year.
The Gift Well Guide
It makes sense that some of our favorite clothing stores would have some of our favorite gift guides. Madewell certainly didn't disappoint with over 250 gift ideas this year. We love this guide because there is such a broad range of ideas and you can get them all from the same place. I've already added several items from this guide to my wish list ;).
Anthropology
Go to their homepage and you will find the word "gifts" shining sparkly at you and you won't be able to avoid clicking on all of their picks for this year. It's hard to find someone that doesn't want a set of their dishes or a cute pair of mugs as a gift.