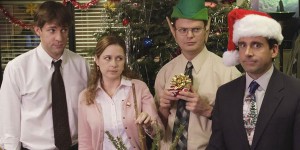 The holiday season is in full swing with lights, hot cocoa, and more Christmas trees being put up every day. You've probably even decorated your desk at work or set up a tree in the lobby of your building. One of the greatest parts of the holiday season is the parties and get-togethers between friends, family, and co-workers. However, planning these parties can be overwhelming, especially trying to come up with ideas for an office party where you have so many different types of personalities. You definitely don't want your work party to be stiff or boring, so we've put together some ideas to help you through the process of creating a great office holiday party.
Create a good invitation. This is the first thing people will see that has to do with the party. It will ultimately help them decide if they are going or not. Make sure it looks good, has all of the necessary information, and gets them excited about going.
Make sure there is good food. People will always show up to parties and even bring other people with them if there is good food. If you have a small office and not very many employees, consider just going out to dinner somewhere fun with everyone. If you have a large office, pick a venue to have the party and have food catered. This will get everyone excited and you will have great attendance at the party.
Have good music. Make sure you put together a holiday playlist that you can have playing in the background during the party. This will bring in the holiday spirit, as well as guarantee no awkward silences.
Have a gift exchange. People love getting gifts this time of year, so have a gift exchange. If you have a small office, a Secret Santa could be fun. If your office is larger, try a white elephant exchange and tell employees to get creative. This is always a fun, lighthearted game and people leave with gifts!
Show your appreciation. This party is in part a fun get-together for everyone, but it is also a way to show your appreciation. Block away some time during the party to do a short presentation on the good work everyone has done during the year. Show some statistics, pump everyone up, and tell them thank you for their hard work that year.
Give them a gift. A nice gift to all of your employees is another way to show your appreciation and get them excited. It can be something little or big, depending on your budget. They will leave happy and ready for another year working for your company.