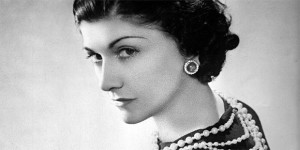 Who inspires you? Many female entrepreneurs struggle to receive the same credit and accolades their male counterparts receive, even when they must meet the same challenges — and more. What does it take to leave home, move overseas, learn Spanish, and start a business out of nothing? In honor of Women's History Month, here are some inspirational female entrepreneurs who overcame challenges and made their mark on history.
Coco Chanel
Coco Chanel's name is synonymous with fashion, and she has been credited with changing the way we think about women's clothing. Chanel began designing hats in Paris in 1909, and came into her own when she realized that with the coming of World War I, women would need to break away from the traditional corsets and constricted clothing in favor of simpler, more practical styles.
Competitive, opportunistic, and ambitious, Chanel created a fashion empire out of nothing, and wove legend around herself to increase her cachet. Although Chanel died in 1971, her legacy lives on. She became the only female to appear on Time's list of the 100 most influential people of the 20th century.
Shazi Visram
Shazi Visram's path to entrepreneurship began when she spoke to her friends about the difficulty of finding easy, fast, healthy food for their babies. Seeing a need and a niche to fill, Visram launched Happy Baby in 2003, focusing on natural, organic, healthy food for babies and children that busy mothers could fit into their schedules.
Now known as Happy Family Brands,Visram's company has become a major name in premium baby food and children's food in the United States. Happy Family is one of the fastest-growing companies in the US, ranked #2 by Inc. Magazine.
Visram has used her success to promote the causes of sustainability and childhood nutrition, and encourages other entrepreneurs to involve philanthropy as part of their business plans. In 2011, Visram made Inc. Magazine's list of Top Female Entrepreneurs.
 Suze Orman
Chicago-born Suze Orman began her career as a waitress, then as a financial advisor for Merrill Lynch, and has since become a "powerhouse of personal finance," with her own television show on CNBC and ten successful books on managing money.
Curiously, Orman did not set out to become an expert on personal finance. She studied social work at Berkeley before dropping out, and once dreamed of owning her own restaurant, and struggled with her own finances. Orman learned about investing from her failed attempt at owning a restaurant, and eventually became a broker for Merrill Lynch. Allegedly, she was told that the business world was not for women, and that she would be "gone in six months."
After working for Merrill Lynch for several years, Orman resigned to found the Suze Orman Financial Group, where she not only acted as director until 1997, but published three books, including The 9 Steps to Financial Freedom.
In 2002, Orman launched The Suze Orman Show on CNBC, and has not only appeared on The Oprah Winfrey Show, but writes a regular financial advice column for Oprah's O Magazine and has produced a television miniseries for the OWN Network.
Anita Lo
Sometimes the most inspiration comes not from those who wildly succeed, but those who struggle with defeat and come back fighting. Anita Lo cultivated a love of French cuisine while visiting Paris as part of her French studies at Columbia. Lo chose to pursue her dream of becoming a master chef, and eventually got an internship at the famous Guy Savoy in Paris.
Lo went on to open two restaurants, Anissa(opened in 2000) and Bar Q (opened in 2008), but met with disaster in 2009 when she was forced to close Bar Q and a restaurant fire shut down Anissa for the better part of a year. Rather than quietly accept defeat, Lo remained undaunted. She appeared on the first season of Iron Chef America, competed against Chef Mario Batali, and won. Lo then went on to appear as the first female chef on Top Chef Masters.
About the Author:
Leslie Collins is a long-time writer for  Pimsleur Approach. She learned to speak Spanish through the program and enjoys traveling, coffee, discovering new cultures and hikes with her golden retriever.