New Year's Eve is one of the most anticipated nights of the year. It's all about sparkles, midnight moments, tuxedos and champagne toasts. Regardless of who you plan on kissing at midnight, our quick style guide will help you ring in the New Year while looking and feeling your best. Whether you are dancing the night away at a hip club or spending a cozy night in with friends, we have an outfit for you.
New Year's Eve Soiree
New Year's Eve is a time to reflect on the past year and look forward the new beginnings, so it would be fitting to head to a glamorous party to celebrate! Hotels, clubs and bars all over the country often offer deals for galas and parties that are guaranteed to help you start your year off right! For the occasion, pair a long flowing evening dress with a stylish up-do. There aren't many opportunities to dress up now-a-days, so take advantage of it!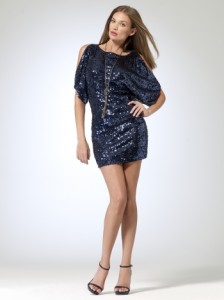 A Cocktail Party with Friends
If you are headed to an intimate cocktail party, the most important rule is this: sparkle! New Year's Eve is your night to start off 2013 right, so why not look fabulous while doing it? A cocktail dress covered in sequins paired with dark tights is a look that any fashionista can pull off. Experiment with some fun make up that night; try some fake lashes or a new shimmery eye shadow to complete your whole look.
A Dinner Party
Even if you are planning on ringing in the New Year having dinner at home with a few close friends, that doesn't mean that you have to skip on the glam. Add a bit of sparkle to your outfit with a sequin top or skirt. This will give you the New Year's Eve look you want, without looking too overdressed.
The Concert
If you were lucky enough to snag tickets to a concert this New Year's Eve, it's important to remember that you'll want to be comfortable while standing on your feet! Pair a sequin top with a pair of leather pants and boots for a look that is as hip as you are. Leave your heavy winter coat at home and top the whole look off with a blazer.
Whatever your plans for New Year's Eve may be, it is important to remember the true meaning of the day: celebrating the past while looking forward to the future. Dress right for the night and kick off the New Year feeling like the best version of yourself!
Megan Hasbrouck is a staff writer for Cache, a nationwide specialty retailer of women's clothing, dresses, formal wear and accessories.