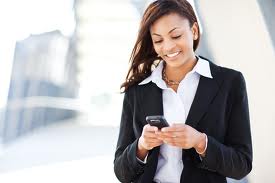 In a rapidly expanding digital age, organizations must be aware of how mobile can grow a business. As of March 2013, over 1 billion smartphones are in active use, which means that one out of every seven people on Earth has one. The rapid growth of smartphones across the world has also meant the rapid growth of mobile apps. Innovative entrepreneurs are maximizing the potential of this phenomenon to improve their businesses. If you are intrigued and looking for more information about how mobile can grow your business, here are just a few ways that mobile plays a role in this process.

How Can Mobile Grow Your Business?
Heighten branding. When a company's slogan or logo is clearly displayed on people's mobile screens, inevitably those people will think of your company when they need your products and services. Mobile advertising gives companies a distinctive edge over competitors that have not yet embraced this business technique. Mobile creates instant brand recognition and heightens general corporate branding and overall reputation.
Improve the customer service experience. Mobile gives customers the benefit of 24/7 access, from any location, to products and services from your company. This is critical for businesses that do not have round-the-clock help lines. Set up your mobile site with the feature that allows customers to look over your products and purchase whenever, wherever.
Offer "on the go" information. Mobile users are "on the go" often, so a mobile site with information and features that are helpful for them is valuable. Contact details and GPS information are popular options. Many users also appreciate the ability to manage their appointments and services on the go too. For example, a day spa can give users access to information about their upcoming appointments with the ability to make changes or cancellations as needed.
Serve as a marketing tool. A mobile site or app is much more than just an application. As it can be easily integrated with social media sites including Facebook, Twitter, and Foursquare, it also serves as an important marketing tool. With a single click, users can share your company's site, app, or their experience with your business, promoting your company for free. Businesses also have the option to use push notifications to send information about upcoming events or special deals to their potential and existing customers. Another option is to consider using QR codes to display information about certain events and specials.
Increase customer acquisition. Consumers today are always on the move and are dependent on their mobile devices for communication and information. It goes without saying that mobile users appreciate a company's engaging mobile features, which make the company more attractive to them. When mobile helps users save time or makes a good impression, customers are more likely to spread the word to their friends and family.
Increase income. A mobile site that features order fulfillment capabilities offers a new revenue channel for a business. For example, a restaurant that offers reservation booking through a mobile site or app has the potential to increase its number of diners every day.
Whatever you decide to do with mobile, you really can't miss. Smartphone usage is only increasing and your use of mobile marketing can only help your business prosper. Good luck!
About the author:
Kristen Gramigna is Chief Marketing Officer for BluePay, a credit card processing firm offering merchant services. She has more than 15 years experience in the bankcard industry in direct sales, sales management & marketing and also serves on its Board of Directors.