It's that time of year where the holidays just keep coming. Every month it's another big holiday that we get to decorate for, celebrate, and maybe even get a few days off work. So, do we take these celebrations into the office? When is it appropriate for us to recognize the holiday spirit and try to bring more of it into the workspace? I suppose it depends on your field and your work environment, but I think most can agree that bringing some holiday cheer has never been a bad thing.
With Halloween being a holiday that is focused around candy and pumpkins, what a better way to help liven the workspace one day than bringing in some Halloween treats. These would  be great to bring to a company party or even to just pass around one day at work. I found a few great options that I tested out myself to share with you.
The traditional treat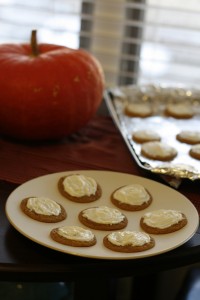 Pumpkin cookies are a classic staple of October. I wanted to find a traditional treat that everyone would love, and I think this is it. I also wanted it to be simple (because let's be honest, we don't have tons of free time), so I found a boxed recipe and some cream cheese frosting. These didn't disappoint and they are sure to liven the holiday spirits of everyone in your office.
The healthy treat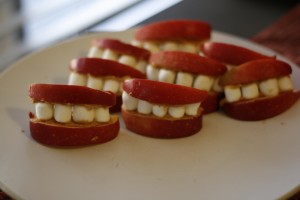 Are you or your co-workers super health conscious? Well, not to worry, because I found a Halloween treat that they can eat too. These "scary teeth" are so easy, simple, yummy, and healthy. Here's what to do:
Cut one apple into slices
Coat each slice with peanut butter
Place mini marshmallows on one slice
Top off the mallows with the other slice
The most unique treat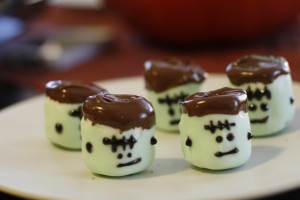 So you want to wow everyone with your creative and domestic abilities? Well, I've got the best treat for you. Frankenheads. They look awesome and taste delicious. So here's how you do it:
Dip 3/4 of a big marshmallow in green dipping chocolate (I used white chocolate and green food coloring)
Let dry on a plate with the non-dipped part down
Once dry, dip the top in milk chocolate (this is the hair)
Use a black gel to create the face