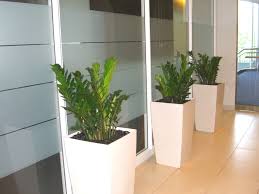 As business owners attempt to reduce their carbon footprint and save money on power, going green has become mainstream. But what about truly "greening" the workplace with plants? That, too, can have positive impacts on any business, and it can also save money!
Studies have shown that flowers and plants in an office can:
Create a calming effect for employees, therefore improving performance, productivity and accuracy
Decrease absenteeism by reducing the risk of Sick Building Syndrome
Reduce noise by absorbing sound waves
Make for happier employees
According to a study conducted at Washington State University, workers in an office with plants were "more productive (12% quicker reactions on the computer task) and less stressed (systolic blood pressure lower). They also reported feeling more attentive when the plants were present."
With this in mind, how can you bring the benefits of greenery to your office? It can be as simple or as complicated as you make it.
It Only Takes One Plant
All it takes is one plant to improve your working environment. Choose something easy to keep alive, like a spider plant, and place it in your work area or a shared space. You will bring life into your office with little effort at all. If you would like something more colorful, consider an orchid. They are low-effort flowers that will add a beautiful touch to the office.
Plant a Space-Saving Garden
Planting a flower or vegetable garden can bring nature into your work location. These can be simple and space conscious. Following are three gardening techniques that can positively impact your work environment.
Plastic Cup Garden: If your office has a window, you can create a small plastic cup garden. Punch several holes in the bottoms of the cups, fill with soil and seeds, and place them on saucers to catch excess water. The options for plants and vegetables are limitless, but make sure to select plants that will thrive with the natural light that is available. This approach will not only bring nature into the office, but it will preserve much needed interior space.
Hanging Urban Garden: Do-it-yourselfers can build a simple wooden frame with planter boxes that extends from an office window.
Vertical Garden: Vertical gardens can adorn wall space, and generally only require breathable pouches, seeds, and soil. The pouches are often made of a recycled material, like burlap, and are attached to the walls with grommets. These can also be purchased in kits.
Decorate the Patio with a Raised Bed Garden
Raised bed gardens are relatively inexpensive options for outdoor patios or other spaces. For a couple hundred dollars, you can build one for your office's outdoor spaces, creating a versatile location for casual meetings, private calls, or breaks. Here's how:
Cut a six-foot-long four-by-four into four, 16-inch corner posts.
Screw corner posts to the ends of a four-foot two-by-six. Repeat with another four-foot two-by-six. This will create the ends of your planter.
Connect the ends with two eight-foot two-by-six boards to create the box.
Add another level of two-by-sixes to create the appropriate depth.
Flip over and mark the locations where the posts hit the ground.
Dig a six-inch hole for each post.
Put the raised bed garden frame into place.
Add hardware cloth to the bed to keep out gophers and moles.
Attach four 12-inch pieces of 1-inch PVC pipe on the long sides of the planters approximately four feet apart and two feet from each end. Secure each pipe with tube straps. These will hold hoops for row covers.
If aesthetics are truly important, use other materials to decorate the outside of the box, like willow or even tin.
Add a mixture of topsoil, compost, and potting soil. Rake it smooth and dampen it with water.
Add flower seeds, but make sure to purchase those that will thrive in the amount of light that is available in this space.
While plants can improve the environment of any workplace, make sure to consider the needs of your employees or coworkers. Prior to adding plants to the work environment, explain your plans to others in the building and make sure that your efforts won't have any negative impacts for others, such as allergic reactions to the plants or flowers that you have purchased.
If you are looking for ways to increase productivity, improve aesthetics, and create an office space that your employees will truly enjoy, consider plants. For a nominal cost, you can positively impact your bottom line.
Since 2000, Chris Long has been a store associate at a Home Depot in Illinois. He also contributes to the Home Depot blog, and provides raised bed garden advice as well as tips on other home landscaping topics.