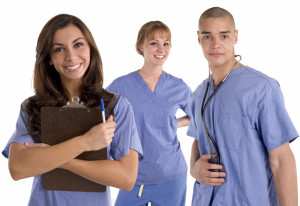 Certified nursing assistants (CNAs) are healthcare workers who typically work under supervision of a physician, a registered nurse (RN) or a licensed practical nurse (LPN), and they provide patients with assistance in daily tasks such as bathing, toileting, dressing, oral care or eating. Additional tasks that CNAs do include recording patients' weight, height and vital signs.
If you are seeking a quick and easy job, being a CNA may not be the correct career choice for you. Being a CNA is hard work; however, if you are willing to work and if you have patience and compassion, a CNA career could be for you. If you are interested in seeking a career as a CNA, read on. The following are the ins and outs of going back to school to get a CNA certification.
Getting The Right Education
You can typically enroll in a CNA training and certification program either via the Red Cross, a community college or a hospital. The duration of CNA certification programs is typically 12 weeks. The program will usually include instruction in topics such as anatomy, physiology, medical terminology, infection control, nutrition, documentation skills and hands-on CNA-related clinical activities.
There will be quizzes also. After completion of the CNA certification program, there is a competency exam that will be administered by the state you reside in. The competency exam is mandatory; you must get a passing score on it. When you pass the exam, you will be certified and eligible to work as a CNA.
Careers You Can Pursue
CNAs can work as CNAs permanently, or CNAs can continue their education in order to become registered nurses (RNs). In addition, keep in mind that CNAs are able to work in various types of medical settings. For example, CNAs often work in hospitals, hospices, doctor's offices,  medical clinics or urgent care centers. Other places CNAs might potentially work include nursing homes, assisted living facilities, home health care agencies or day care centers.
Other Aspects That Are Relevant
In addition to meeting the education requirements, CNAs must have a deep sense of concern for others. CNAs work with everyone; they care for babies, children and adults of all ages. They care for those who are ill or dying. They even care for patients postmortem.
For example, they might have to prepare a patient's body to be moved out of the hospital after death. Also, CNAs must have excellent communications skills because quite often they are working with patients who might be uncooperative, confused or upset, and it is helpful if the CNA can communicate clearly and stay calm.Dedication is another important quality for CNAs to have because CNAs are on their feet for extended periods of time, and they often have to do mundane repetitive tasks such as washing soiled linens for example. At these times, CNAs must downplay the mundane aspects of their job tasks, and they must focus more so on the fact that they are providing a necessary service.
Also, CNAs must have good personal hygiene. Medical settings must be as clean as possible; if the CNA has good hygiene, it helps to keep the overall environment of the medical setting clean too.About the Author: Rocky Ramirez is a published blog author and freelance researcher – he's done a lot of research on careers and how to find what you're passionate about in life. Look for his e-book guide coming out later on this month.