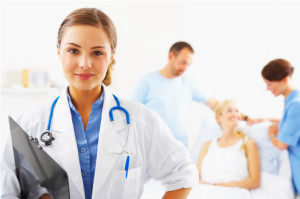 The 2008 crash of the U.S. economy, the likes of which almost propelled the country into a second Great Depression, dealt a catastrophic blow to hundreds-of-thousands, eventually millions, of American jobs. Although the impact was felt across nearly every industry and market, certain jobs, usually dubbed "recession-proof", remained (and will continue to remain) virtually 100 percent immune from the 2008 economic crisis and from possible future downturns.
Presented are five careers that not only weathered the crisis of 2008, but have historically been practically impervious to bad job markets.
Healthcare: Brain Surgeon
This one's a, forgive the pun, no-brainer: The vast majority of people will never be brain surgeons. Considering the time, resources, and energy–i.e. a decade or more of combined education and interning and vast sums of money–it takes to attain an M.D., brain surgeons are found few and far between. Thus, their specific skills are in extremely high demand and short in supply.
Brain surgeons have a minimum of a bachelor's degree, four years of medical school, and three to eight years of residing and interning. Wages for brain surgeons, and doctors overall for that matter, are among the highest of all careers: Per the Medical Group Management Association (MGMA), physicians practicing in medical specialties, including neurology, received a median salary of over $356,000 in 2010 alone. Click here for a history of brain surgery.
Education: Post-secondary Educator
Post-secondary teachers work in both public and private universities, junior or community colleges, and career/vocational schools. Educational requirements differ with the different types of educational institutions and subjects taught. However, post-secondary teachers at universities usually have a Ph.D; a master's degree is sometimes sufficient for post-secondary teacher at junior colleges. In vocational/career-type schools, work experience can sometimes prove even more important for getting a teaching job than a degree itself. The median salary for post-secondary educators was $56,000 in 2010, with the field expected to grow 17 percent by 2020.
IT: Database Administrator
Database administrators, a.k.a. "DBAs", create, store, organize, and manipulate data using specialized software and computer systems. They work in a variety of industries, including computer and network systems administration and consulting, insurance, banking, and healthcare. DBAs generally have a bachelor's degree in an IT-related (information technology) subject and usually gain experience both in school and in the field. The median wage for DBAs in 2010 was $73,000.
Healthcare: Physical Therapist/Physical Therapist Assistant
Physical therapists, also known as PTs, help treat and rehabilitate people who suffer from hindered movement, as well as the chronic pain that commonly follows it. PT's normally must attain a doctoral degree in physical therapy and are required to be licensed in all U.S. states. In 2010, the median pay for PT's was just over $76,000, with beginners earning a median pay of $54,000 and veterans' salaries peaking around $90,000.
Physical therapist assistants, often called PTA's, work under the supervision of licensed physical therapists to help patients to manage pain and regain movement due to injuries, illnesses, and/or surgeries. Most states mandate PTA's have an associate's degree from an accredited physical therapy program as well as a PTA license. As of 2010, the median annual wage of PTA's was $49,000; further, the number of PTA positions is expected to increase a whopping 46 percent by 2020, faster than the majority of all other careers.
Finance: Financial Adviser
Financial advisers specialize in advising clients on investments, taxes, and/or insurance decisions. They normally have a bachelor's degree, often a master's degree, and hold special certifications, chiefly among them being: Certified Financial Planner (CFP), Chartered Financial Consultant (ChFC), and Chartered Financial Analyst (CFA). In 2010, the median salary of financial advisers was $64,000, $32,000 for beginners and $130,000 for veterans. The field is projected to grow 32 percent by 2020.
**Statistics gathered from the U.S. Bureau of Labor Statistics Occupational Outlook Handbook