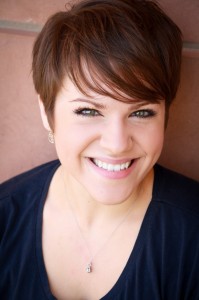 I heard about The Luncheon Project from a close friend of mine, and after researching about it, found myself writing an email to Lizzy right away. I had to talk to this girl and meet the genius behind this project. Well, when I finally did get to have lunch with her (it only seemed appropriate to take her to lunch based on the premise of The Luncheon Project), she proved to be even more than that. I was so impressed with Lizzy and her drive for innovation and her passion for life. She's one of those women you meet and instantly want to be best friends with. So here it is, my interview and lunch conversation with Lizzy:
Tell me about your background and what led you to where you are today.
So I started in trombone performance, but I couldn't handle the practice time and I felt too alone. The way I explain it to people is I realized that there are a lot of people who have this amazing ability to change lives with their music and I got into the program and I feel emotion when I play it, but I don't have that drive to change the world with music. I really appreciate that in other people, but I just had this weird guilt thing with it because it felt very selfish and I couldn't figure out how to make it selfless. There are people who definitely can, but I just couldn't figure it out. So, I changed my emphasis to media music, which is more music and talent management. I have more of a passion for helping other people with a talent. I also did a business minor and I loved my business classes. Looking back now, I think I would pursue a degree in business with an emphasis on entrepreneurship. And now I would love to help figure out ways to provide resources for women looking into entrepreneurship because I don't think there are enough.
Do you feel that you will do anything with music in the future?
I would love to. There is a music improv group in the area and I'm going to start managing them, which is awesome. If that goes well, I'll hopefully be able to acquire some more stuff in artist management.
I'm curious about your work at Qualtrics and how you got into graphic design.
Oh yeah! It's a random story. I've always had this weird drive to work. When I was in my sophomore year at BYU I wanted to get a job and start building savings. I applied for some on campus jobs and got hired at IT training. On campus at BYU they teach software classes to faculty, students and staff for the Adobe creative suite. I basically got paid to learn the ins and outs of all of these programs and teach them. That's actually where my husband and I reconnected and later got married! I loved learning and teaching the programs but I didn't have any practical application for it so I started getting into typography and amateur photography. So I kind of started dabbling and then I got hired at performing arts management. I was a publicity artist for them and ended up doing a lot of design. That segwayed when a friend of mine from IT training got hired at Qualitrics and he put in a good word for me.
What do you do at Qualtrics?
So at Qualtrics everyone has their core work. For sales people its emails and phone calls and my core job is "skins" which is the survey templates. If your company were to purchase a Qualtrics license we would get a trigger email and then get in touch with you and grab your color scheme and logo and brand it for your company. We also get to do the swag and handbooks and training manuals which is fun.
Where do you find fulfillment in life and what inspires you?
Well, I've had to change my idea of where fulfillment comes from. I think that getting married has done that to me. Before I used to find a lot of fulfillment in pleasing others and I have a lot of external fulfillment. However, over the last few years I've had to turn that inward. I think a lot of my fulfillment comes when I accomplish things I want to do. It can be amazingly grand or just stupid but if it's something I wanted to do and I did it, it makes me feel really good. As far as inspiration goes, I get a lot of inspiration from what other people accomplish. I mean, as far as creative inspiration goes, music and art really get me. I find a lot of inspiration from history as well. At work I listen to a lot of podcasts and I like learning about people and the things that they do. Maybe that's why we like the Lunchoen Project so much, because we just like learning about people.
Do you read a lot of blogs in your free time?
Yes and no. I try and reduce the time I spend on technology in my free time because I am literally on the computer all day. And then, when I get home I have freelance projects and all of these websites I want to start on the side. So, I like to hold a solid book. I get updates about my favorite blogs, but I limit the amount of time I'm on it.
So one reason why I was so intrigued by the Luncheon project was that I've sort of tried to do a similar idea myself by asking people to lunch to build relationships and get advice. I think people forget about the power of building in-person relationships.
Oh yeah! The story that made me change my major and has given me the confidence to do this is this:
I was dating a guy and he was a trumpet player. He idolizes this man named Jon Faddis, who got his big break when Dizzy Gillespie invited him up on stage to play at a club. Obviously, that changed this guys life forever. So the GAM foundation does a jazz series like once a month where they bring in an artist and Jon Faddis was coming. It so happened that this concert was on the birthday of this guy I was dating. So I did a little Google search, found Jon Faddis's manager and emailed and asked if we could meet him. I get a call from Jon Faddis and he said that he would give him a trumpet lesson. I freaked out. Coolest experience ever and it happened just because I sent an email. So I kind of had this in my brain that people are just people and all you have to do is just ask. The worst that can happen is they say no and your life goes on the same way.
What has been your biggest struggle in getting to where you are today?
I would say it's probably just making decisions. I'm not really a worrier in general except that I worry like crazy about the future. I like to do everything and that's been very inhibitive. I've always been that way. It's the analysis paralysis thing. I have a hard time weighing options and choosing how to move forward. When I hit go, I hit go but it takes me a while to get there.
How do you decide who you are going to interview for the Luncheon Project and is there a process to it?
There really isn't a process. Most of the ones we've had so far are people we know, know of, or have recommendations to interview. We try and ask at the end of the interview if they have any recommendations of people we should interview and then we can add them to the list. Sometimes people don't respond or they are too busy. But really we just want to help people find ways to foster relationships and create these connections that become meaningful and impactful. The Luncheon Project is our way of showing others how you can do that.