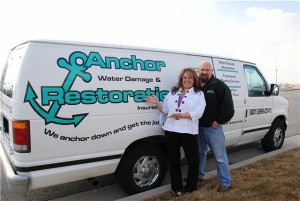 Earlier this week I sat down with Kris Rudarmel, the Woman Business Owner of the Year NAWBO winner for 2011. Kris co-runs Anchor Water Damage & Restoration with her husband, Frank. I had met Kris a few weeks prior at a conference in Salt Lake and I knew I couldn't pass up the opportunity to go and learn more about her and the business. Not surprisingly, my interview with her was inspiring. She has turned a carpet cleaning business into an experience for her customers. Through gift bags, personalized art, and rewards, Kris has surpassed customer service expectations. On top of that, her personal story is beautiful.
Tell me about your background
School wise I'm just high school, which is why I think it was hard to start from the ground up. Over the last 18 years I've started and done different businesses and then we had a flood years ago and it was just crappy and they did a terrible job. When Frank and I owned our first company we had a commercial cleaning franchise but it was a franchise with systems and we knew we wanted to get out of that. We were the third largest franchise in Utah after 2 years, so we built it fast and then Frank said let's go into flood repair since we had that horrible experience so we could relate and create something cool. So we've had this open for 7 years but didn't start running it until 4 years ago.
Once I got out there I didn't know the first thing about marketing, I was scared of the phone. Still to this day I get a little bit queasy. But as I got more experience in the business and as I took certification classes and got to know more about the industry I wasn't as nervous. I realized then that I had to find something to stick out. We were competing against huge national franchises so we went and got certified in water damage, fire restoration, and carpet cleaning. I also came up with a customer service plan, which is the little gift bags, the cigar wrapped candy bars, water heater tags, and just tried to create a great customer service plan. A first time customer gets all of those things and then returning customers I've been little gift card packs and I'm also a painter and artist so I create inspirational art. I use butterflies because I am kind of transformed like a butterfly and I want to pass that on to other people.
I wanted to create a different pathway for myself because I was stuck where I was and didn't have any self-confidence.  We call after each job to check up on our customers and just try to do things that our competitors don't.
It's all about running a boutique business. We also have a referral program. We try and have the best customer service so that our clients can in turn be our cheerleaders.
What was your biggest struggle in starting the business?
Feeling the fear and doing it anyway. I seriously was terrified. I always wanted to be a teacher growing up but I never had the self-confidence to go to college and now where this business is transforming and growing I'm able to educate our customers. I eventually want to be a huge business and have a lot of employees and be able to make a difference in their lives. I want to make a difference in the economy and be a leader and show people how you can change. Make your dreams come true by being the change within yourself.
How did you react upon winning the "Woman of the Year" award? Was it unexpected?
The 2009 "Small Business of the Year Award" was really unexpected; I even threw the letter in the garbage. The Chamber President had to come and ask us if we were going to come to the Gala dinner, but at the time we were really struggling and couldn't afford to buy tickets. He asked if we had gotten the letter from him and I had to go back home and dig it out of the trash before I realized we had won.
A few years ago I made this goal that I wanted to be in a magazine. My son was super supportive, but the rest of my family kind of laughed at me. So I went and cut out a picture and put it on my vision board. I had been a member of NAWBO for a year and the president came to me and asked me to share my story and nominate myself for the award. I told her I didn't like tooting my own horn but she encouraged me to do it anyways because they didn't know enough about me to nominate me themselves. It took me a long time to enter, but I finished it and then began having these visions that I would win. The date came and went of when they usually let you know but I didn't hear anything so I was really sad. It was on my vision board but it didn't happen. But then I got a call on June 6th of last year to tell me that I had won. I was shocked! She told me that the date had been moved back and everything shifted and I said "Oh my gosh!!" and was so excited.
Would you consider that award and your process of becoming more self-confident your biggest success thus far?
I didn't realize how big that was, but when I got there that night and they told me what a hard time they had picking the winner it started to dawn on me. They had invited the other nominees, and one has ten non-profits and I just started crying. I was so honored.
What tips do you have for women in business?
One of them is goal setting. That made a big difference for me.  For example, for me I started with the phone because I hated using it. I created a template Monday through Friday and Sunday I would sit down and create goals for the week. I started with 3 a day and writing it down was the key and action was the big thing. Even on the days that I didn't want to go I had to. Even to this day my stomach still gets queasy when I have to go out and see agents. But accomplishing those goals helped our business grow and things happen faster.
What is your favorite part of your job?
Really all of the cool people we meet. They turn into friends. You get on a personal basis with people. I'm a crier but I try not to be, my kids get mad at me. But when you have a flood it's very devastating so when I get the calls I try to be sympathetic and kind.
Kris has been married to Frank for 29 years. They have 2 children, Mason 22 and Mikell 18. Kris is honored to be the recipient of Chamber West's 2009 Small Business of the Year Award and NAWBO's 2011 Woman Business  of the Year Award.  Kris, along with her company, Anchor Water Damage & Restoration has been featured in the following media outlets in the last 3 years: abc4, KTALK, The Salt Lake Tribune, The South Valley Journal and Utah Business Magazine. Her company was the first Flood company to be Gephardt approved in Utah.