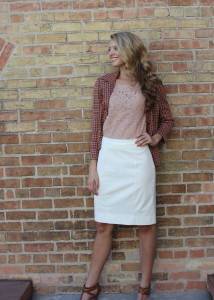 With the new year coming in full force, many of us are evaluating what we want to accomplish in our lives. For some, that means a new job or a promotion. In order to help you make these dreams come true, we have some tips on what to wear to an interview.
For any interview you want to be noticed for your skills, experiences and what you can offer the company. However, it is often your appearance that is first noticed and this is what peoples initial impressions are based on. Your appearance will be seen as a reflection of your personality, professionalism and attitude to work so it is important that you get it right. Although your outer appearance is very important you aren't being judged for being the most the most stylish, you want to come across professional, polished and confident.
As every business has different values, cultures and interview processes there is no one fit all rule for all. It is always better that you are dressed too smart than casual, if it isn't stated what you should wear it is usually safe to assume that formal wear is expected. If you are still unsure don't be afraid to ask what is appropriate, this won't reflect badly on you it is a sign of your good organization and preparation skills.
You don't have to leave your personal style behind in an interview, you can still wear items such as jewellery that say something about you, do remember that these items are very subjective you don't want to wear anything that the interviewer may take a dislike to, so choose carefully. It is important to differentiate your personal and professional image, if you are looking to perform well and are really interested in the role, you will be more concerned about coming across as professional, not concerned with the latest trend.
For women in particular it can be hard to get this balance right, there are endless options of color, style and fit for work wear. In general men have more of a uniform which they can follow. A suit isn't necessarily required but it may prove a good option as you won't need to search the shops for coordinating items, darker colors portray authority and look really polished. Grey, black or navy works really well as it will be easy to choose a matching shirt or blouse. It is recommended that you wear a plain white or pale colored shirt or blouse that is well fitted, also ensure that it is modestly cut and no cleavage is showing. If you do choose a skirt, make sure that it is cut no shorter than the knee, tights are usually expected to be worn too. Fit is really important when choosing you will need to find something that fits you well complementing your body shape. This way you will feel good in what you are wearing meaning you will come across more confident in your interview and be more focused on any questions asked. The interviewer is far more likely to choose a candidate that is comfortable and relaxed and even the most confident and employable candidate can appear up tight and awkward when their clothes are making them seem uncomfortable. Although it may be frustrating having to purchase new clothes for an interview, it is definitely worth it if it gives you the upper hand in any roles that you apply for, plus the same outfit can be worn for any other future interviews.
Once your clothes have been decided, don't forget about the smaller details, they are really important and may count in your favour if you get them right. Shoes are a detail that may forget about, ensure that they are well polished and match your suit or skirt, heels are fine to wear but just make sure that they aren't too high, you will want to be comfortable. Your favourite black party heels will not be appropriate for an interview, have a look at the smart women's shoes here so you can get more of an idea. For women make up should be simple and understated. Your hair should also be neat and tidy with no extreme hair colours or cuts, making sure that it is off your face. If possible any tattoos or facial piercings other than your ears that you have should be covered up. All this will make you look really polished and professional.
Finally, once you are sat in the interview don't focus on what you are wearing at this point you have done all the hard work so make sure that you show them that. Good luck!