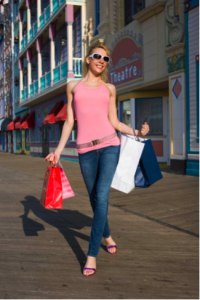 Just because you don't have a lot money doesn't mean you need to deprive yourself of some good pair of fabulous shoes. For the ladies, the love for shoes isn't really about how much money do we have in order to buy them. Most of the times, it's just about how creative and patient we are in finding ways how to steal a great discount to get our desired pair of shoes. Here are some tips on how you can find the greatest shoes, from ankle boots, wedge boots, pumps or flats at a great discount.
1.     Shop online
Not only because it is cheaper to buy online but also because you can choose from a lot of styles and brands that are often not available in different shoe stores. It can also save you a lot of time because you can browse, search and purchase your shoes with just some clicks instead of walking all around the shoe store. Ask your friends for their trusted online shops and browse for shoes that fit perfectly with your budget. Be mindful of their sizes because some shoes appear bigger or smaller onscreen than in real life.
2.     Take note of the Promo Codes
Many online shoe stores use promo codes to give additional discounts for their valued customers. The codes are often located at the top of the website or at the checkout page. Just enter the code and save 20 – 50% off your shoes!
3.     Buy quality shoes
Buying quality shoes that will last for more than a year is better than buying cheap shoes that will only last for months. While your concern is how to save money, you should also take note of the quality of shoes to buy so you can have it for much longer period of time. Apply proper care to your wedge boots and store it in a cool dry place to maintain its quality all through the season.
4.     Get the right timing
Buying shoes at a great discount is just a matter of timing! Consider buying shoes off season when the sales are low and shopping stores are offering big discounts to attract customers. Personal finance experts also suggest buying shoes on weekdays like Tuesday or Wednesday instead of weekends. Since most people buy shoes during their free time on weekends, shoe stores are often empty during weekdays. This will allow you to choose your kind of shoes and negotiate price if possible.
Women are notorious when it comes to our love for shoes but that doesn't mean that we shouldn't be mindful of how we spend our money with our footwear. It is acceptable to own up to five pairs of everyday shoes but you don't have to have a whole room of shoes just for the sake of it. If you start putting these tips to use, you will see a big difference in the amount of money spent on shoes in no time at all.
About the Author:
Scarlett Lee Rios is a fashion writer and blogger for Makemechic.com where you can buy a wide variety of women's fashion clothing, shoes, boots like ankle boots , and accessories at affordable prices who lives in Fullerton, California. She is also doing part-time modeling for almost four years now.  Follow her @scarlettleerios.