Spring fashion is often associated with bright floral and colorful prints but this year's trend is somehow different. Black and white monochrome which previously been a hit during 60s is now back to impress our fashion conscious ladies. It's elegant, it's catchy and definitely not your ordinary chic outfit but dressing up in monochrome can be a real steal when perfectly pulled together.
Monochrome look is basically wearing one color and this commonly includes the black and white combination. Catwalk for spring-summer 2013 is recently filled with bold, chic and stylish black and white items from dresses, to bags and even shoes. Famous designers gave this interesting fashion pieces a modern twist to fit today's trends.
If you think you're ready to rock the monochrome look, here are some items you should consider adding to your wardrobe.
Patterned Skirts and Bottoms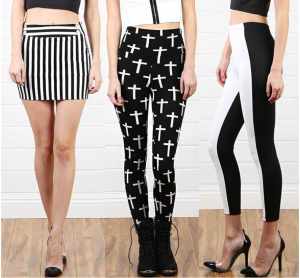 When wearing monochromatic outfit, it is recommended that you put on items with structured prints such as stripes, polka dots, or herringbone. This will give you a polished look that can be appropriate for formal occasions or for office attire.
This striped mini skirt looks neat and can be paired with plain black top plus white purse and accessories. Throw in some blazer to achieve the classy professional look for your office attire. White shoes with black toe cap can also be worn to complete this ensemble.
If you're a fan of ankle boots, wearing printed leggings or black and white miniskirt can be ideal for you. Wear a laced up ankle boots for casual look or sleek black booties for a more formal look. Leggings with vertical stripes will also make your legs look even more slender and sexy.
Glam and Sexy Tops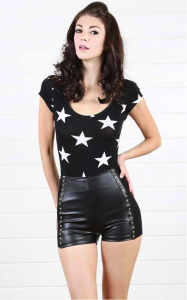 Create a leaner and sexier look with a tulip back striped top. This modern meets old fashioned look can be really stunning even when attending casual dates or meetings.
Color blocking can also be done when wearing monochromatic outfit. Get a plain white top and wear it with black leggings or pull on black top with white skinny jeans. Glam up your look with scarfs, bangles or necklaces and be ready for a night out in just a snap.
Chic and Stylish Dresses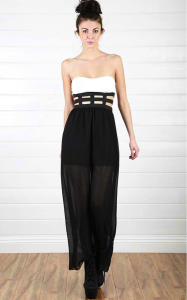 Ready for a night out with your friends? How about wearing these fashionable dresses in monochrome? This Black White strapless cut out maxi dress will have you walking down the runway! Pair it with your platform ankle boots for an even sexier look.
If you're in the mood for extra chic dresses, this Polka Dot Mesh Peplum dress is surely a head turner. Another High Contrast A Line Dress can also give you a simple but sweet look. You can also bring your black cardigan or trench coat just in case the night gets a little cooler.
Black and white is known for being a color of poise and glamour. But this year's fashion trend made this monochrome made it more stylish and edgy. Raid your closet for your black and white items or shop for these fashionable items because monochromatic fashion is surely here to stay!
About the Author:
Scarlett Lee Rios is from Fullerton, California, a fashion writer and blogger for Makemechic.com,  where you can buy a wide variety of women's fashion clothing, shoes, boots like ankle boots and wedge boots as well as accessories at affordable prices. She is also doing part-time modeling for almost four years now.  Follow her on Twitter @scarlettleerios and check out her blog: MissSassyGirl.