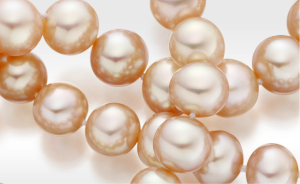 Christmas party season is firmly upon us and it's important to look our best when we head out with our friends and colleagues this festive period. Most women will buy a new dress (or ten) for the festive party circuit but it is also essential to pay attention to the accessories worn alongside these new outfits. So far as Christmas is concerned, one of the most striking and elegant forms of jewellery to accessorise with is undoubtedly that of pearls and it is little wonder that many women turn their attention to pearl jewellery during this period.
Buying pearl gifts might not be able to wait until Christmas because, by then, it will be too late to show them off at the array of Christmas parties that are likely to be filling the calendars over the next few weeks. Pearls are such a stylish and eye-catching accessory and the wintery conditions that are begin to envelope the country are the perfect backdrop to really make pearls stand out (not that they need any help in that department).
The only difficult in wearing pearls for Christmas is narrowing your choices down. There are so many fantastic varieties of pearl jewellery to choose from including pearl rings, necklaces, bracelets and earrings. Such is the diversity of options, you'll likely find it difficult to decide upon which type of pearl jewellery to wear for your Christmas parties. Fortunately, however, one of the finest characteristics of pearls is the fact that they are so universally stylish and elegant that they will go with almost any outfit that you choose to wear to your festive parties and you can't really go wrong in this respect.
Let's take a look at three of the most striking examples of pearls that would look perfect for any Christmas party:
Pearl Bracelet: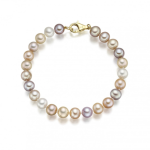 You simply cannot beat a simple and elegant pearl bracelet when it comes to adding an unparalleled level of sophistication to your outfit. A fantastic example of the sort of beautiful pearls that are available out there is this eye-catching multi-coloured Freshwater pearl bracelet with 18ct gold clasp. This will add the perfect finishing touch to any stylish dress that you opt for at your Christmas parties this year.
Pearl Earrings: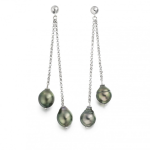 To add to the wintery feel of your Christmas outfit, you can't go too far wrong with a beautiful pair of drop earrings. They will add significantly to the style of your outfit and offer a dazzling aesthetic appeal that will ensure that all eyes are on you at the Christmas parties this year. These beautiful grey baroque Tahitian pearl drop earrings will bewitch and impress in equal measure and they are mesmerizingly stylish and elegant. The perfect Christmas choice.
Pearl Necklace: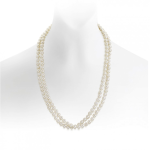 Pearl necklaces are a staple of all women's jewellery boxes and this is testament to the timeless appeal of this sort of beautiful accessory. The perfect embodiment of the luxurious nature of pearls is this stunning white Freshwater pearl rope necklace which will superbly finish off your look this Christmas period. Pearl necklaces come in many different varieties such as Tahitian, Akoya and black pearls but for the perfect understated accessory for a winter outfit, Freshwater pearls are the perfect choice.
All images are copyright and have been used with permission of Winterson Pearl Jewellery.