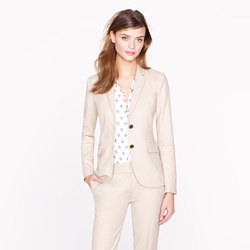 Most working women want to look professional but also maintain a sense of style. After all, the modern working girl spends most of her day at her workplace! Wouldn't it be nice for her to be able to wear outfits and accessories that showcase her personal style, make her look feminine and add flair to her overall look–without sacrificing professionalism?
These days, there are many ways to enliven work outfits while still looking appropriate for the office. Even if one works in a conservative office, there are still ways to add some zip to one's basic look with fun additions like scarves and jewellery.
Add a belt. Let's take the traditional suit, either trousers or skirt. This conventional outfit is mandatory in most conservative fields such as banking and the law. But it can get boring to don the same basic outfit day after day. The perfect solution is to use accessories wisely. For instance, a bright, skinny belt in a vivid hue can add a pop of color to a neutral suit and traditional blouse, without going overboard or looking out of place. If you cannot quite reach for the skinny belt look the you should find a broach or something to give the lapel of your jacket a little glitz.
Add jewelery. Alternatively, one could add classic earrings and a necklace or bracelet to add interest to a basic navy, black, brown or grey suit. And don't forget the bag; a stylish and interesting day handbag or tote is a brilliant way to inject the working woman's outfit with interest through color, texture or pattern. Even the most traditional workplace will tolerate a lovely leather bag in garnet, burnt orange or deep green.
Change up your hair. You should always look to use your hair too to reflect your sense of style and although a professional working women usually opts for a stylish up do this does not mean she cannot add a little something like a slide or clip to compliment her look.
What about a less conservative office environment? Here, a woman can experiment a bit more with fun accessories, but she should still keep norms for appropriate office dressing in mind. In a more casual and flexible office, a bright, patterned scarf may nicely accessorize trousers and a button-up or sweater set. Chunky-heeled pumps in an unexpected color or print can liven up a professional-looking pencil skirt or day dress. One can also typically wear more jewellery in casual workplaces without looking unprofessional or distracting. A bold cuff bracelet and small hoop earrings can be paired; or two or three necklaces in similar lengths and weights can be layered for a super modern, chic look that's still appropriate for the office.
Use a fun handbag. Here, too, an interesting handbag goes a long way to accessorize any work outfit. A bright bag can brighten a working woman's look on her commute or at lunch, but then can be put aside while in the office, allowing her to maintain a professional look. Vivid colors are the rage right now, with gorgeous leather bags and totes abounding in shades of mustard, dark red and even royal blue.
A reliable tip is to keep an eye on how the higher-ups in one's office dress and accessorize, and take one's cues from them. There's always room for stylish and feminine accessories within a professional look. Belts, shoes, jewellery, scarves and bags give the working woman plenty of opportunity to accessorize with flair but still be properly attired.
Author Bio:
Rebecca is a fashion student who has aspirations to design her own wedding gown collection and run her own specialist wedding boutique, she works at Samara James helping people choose one of their exquisite diamond engagement rings to pop the question with . If you wanted to revamp your work wardrobe then consider hiring a fashion consultant to get a professional look.