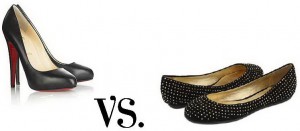 We all want to put our best foot forward when we show up to the office. While putting our best foot forward means being ambitious, hard working, helpful, and driven, it also means looking the part. Our feet are part of the whole package. Now, this doesn't just mean that we wear the tallest heels or pointiest flats. That would be nonsensical. While it is important to look professional and put together, it is also important to make sure that you are comfortable. The age-old debate over wearing heels or wearing flats still continues. I decided to take a look at the pros and cons of each and then let you make your own decision on what is best for you.
Heels
Pros:
Heels give you height, which can make you look more authoritative. This is especially great for shorter women.
Heels look very professional. If you are giving a presentation to potential clients or have important meetings, heels are a great way to make a good impression of professionalism.
Heels show confidence. Any woman who is willing to wear heels all day long in the office has to be confident. And it shows.
Cons:
They can be painful. If you don't have the right shoe, heels can be incredibly painful especially towards the end of the day when you've been wearing them for a while.
They can cause damage to your feet in the long term. If you wear heels all day, every day, it will hurt your feet. It is unnatural for us to walk like that, hence causing damage in the long term.
They can be more expensive. A good pair of heels can break the bank more than a pair of flats. If you don't have much fudge room in your budget, look for deals and stay away from designer names.
Flats
Pros:
They are comfortable. You can walk around in flats all day long and not notice. This allows you to focus on your work and more important things than the state of your feet.
They are versatile. If you have a gathering after work with friends or family, flats can make the transition easily, whereas heels can be too dressy.
They make for an easy commute. If you commute to work on public transportation, heels are easy to walk in, and even run in if you need to rush to the train that is about to leave.
Cons:
They are not as authoritative. Flats do not give you the height or same confidence that heels do.
They can come across as casual. With flats, you have to be careful to make sure that you are wearing ones that are dressy enough for meetings and client pitches. You don't want them to think you take your work casually.
In the end, it's all about personal preference and what is best for your work environment. If the extra boost of confidence that heels gives you is worth it, then wear them all the time! If you have to walk a lot and are standing up most of the day, definitely find a good pair of flats that will support your feet.