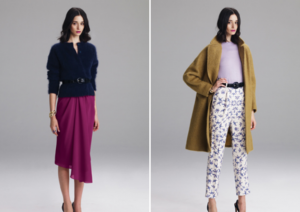 There is about four times a year that I start to get really antsy with my wardrobe. I think my body has an internal feeling for the change of the seasons and my brain starts exploding with ideas for new outfits I can wear due to the change of season. However, I'm always a bit premature with my excitement and end up wearing boots when it's still 80 degrees outside, so I'm learning to curb my appetite.
But, fall is approaching, there's no doubt about that. I can see leaves starting to turn brilliant colors up in the mountains and I know it's only a matter of time before that color palette makes it's way down into the valley. So, it's time to take a look at our fall wardrobes and decide what's appropriate for the office and what isn't. Luckily, there are some cool trends that we can work into our office wear this year.
Cozy knits-dress them up. We all have our favorite sweaters that are so comfortable we never want to take them off. However, sometimes they can look a little too casual or frumpy for the workplace. Luckily, JCrew proved at Fashion Week this year that we can pair our knits with skirts and silky printed pants. Comfortable and fashionable…that's always my goal.
Go for a statement collar. Fall is the time to bring out our heavier jewelry and big scarves. Also, don't forget about the recent trend in bedazzled collars. If you are brave enough to flaunt this, do it!
Wear bright colors. You may think that bright colors should be reserved for spring and summer, but this year bright colors are being used everywhere as statement pieces. Wear those bright red heels and don't be afraid to have your winter purse be bright as well. However, don't go overboard. Remember where you are working and make sure you aren't going out of the lines. You want to make sure your outfit fits the season as well as your office, and then you spice it up with a little color.
Use fun patterns.  Patterns are one of the best ways to dress an outfit up. Find a pair of patterned pants that you can match with a simple blouse and you will be good to go. This is a fantastic way to change up your normal office wardrobe.
Find Textures. This might be one of my favorite parts of colder weather. We get to mix and match new textures that are too warm for the summer months. Find fun cardigans, sweaters, and jackets of all textures that you can dress up to wear to the office. This gives your outfit a new look and a fun feel.