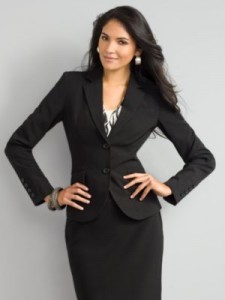 Dressing for work doesn't have to be a battle with your closet. With a few key perspectives, a little bit of fashion knowledge and tips on what to avoid, your clothes can become the tool for succeeding in your career. Keep in mind the following major do's and don't's as you shop for an updated look or make over wardrobe:
Do
Wear Confidence
A look of confidence is a must-have for interviewing, meeting with clients and excelling at your job. New boots for Fall. Fresh-cut bangs for Spring. Feeling confident about your personal style and work wardrobe will help you feel more self-assured and poised during your business endeavors. A confident, self-assured working woman feels energized, competent and eager to achieve success. Evaluate the contents of your closet. Are you in need of a closet cleanse? Are you still wearing clothes from college? Have you lost weight recently, yet still try to pull off those pants and blouses two sizes too big? Eliminate half of your closet and shop for new clothes that are well-fitting and age appropriate. Resort to print and online fashion authorities like Lucky and Glamour magazine for inspiration. Pick three pieces that are outside your comfort zone. Slowly integrate inch-high black heels, camel ankle boots, collared shirts in a variety of colors and belted two-piece Peplum dresses into your wardrobe.
Dress Your Role
Clothes are functional and representational. You can expect vastly different work attire from a personal trainer, real estate agent and elementary school teacher. Understand your role and subscribe to the culture of your workplace, which includes its dress code. Tom Searcy from CBSNews.com reports on the trend in Silicon Valley "to dress like you're homeless to attend board meetings." He explains that many of his highly successful and profitable clients in the tech-rich region "dress in ripped denim, Vans shoes and T-shirts." Referred to as the "business casual dress movement," casual attire is more accepted and less of an indicator for how well you perform professionally.
For offices that accept a more casual dress code, use common sense. Avoid any clothes that you'd wear for sleeping or working out. Make sure your clothes are in good condition; keep the 10-year-old Rainbow flops and worn-in college hoodie sweatshirt for outside the office walls. For sales, public relations and other client-interfacing roles, Searcy noted dressing one step up.
To look fresh and polished, keep in mind the following tips:
•    You can have a wardrobe containing the most beautiful business attire; however, if the pieces aren't tailored well, your appearance will look sloppy. Hem pants that drag on the ground and make sure your blouses are comfortably button. Check that your clothes aren't too fitted or loose.
•    Proper grooming represents your professionalism just as much as your outfit. Get regular haircuts, properly maintain your hair color and keep it out of your face during client interaction. Light makeup and nails can also enhance appearance. Avoid intoxicating perfume, which can be distracting and offensive.
•    Comfort trumps being a fashionista. Barely being able to walk in your stylish stilettos can be distracting during a lunch outing. To play it safe, keep your style on the conservative side and integrate fun accents to keep your outfits fashionable and personalized. Make sure you can comfortably and smoothly perform your responsibilities in your work attire.
Don't
Don't be Afraid of Fashion
You don't have to be a seasonal trend-setter or wear extravagantly stylish outfits to be fashionable and cool. Unless you're wearing a company-required uniform or scrubs, be mindful about your clothing. Your everyday work wear is a representation of YOU and even your skills. The New York Times just recently reported on how tech geeks in Silicon Valley are ditching proverbial hoodie sweatshirts and flops for more sophisticated, yet still fun, work clothes. In San Francisco,  Alice & Olivia by Stacey Bendet feature selections of to-work dresses, blazers and skirts designed for the modern working woman. Alice & Olivia's exclusive to-work line includes timeless high-waist pants, high-waist shorts, neck tie blouses and button-down tunic looks for women who want to enhance their wardrobe and have their eyes on success.
Ruzwana Bashir, founder of travel start-up Peek, explains that people can be distrustful of fashion. "Perhaps they think they're not taken as seriously if they make an effort." Dressing well doesn't mean you're unintelligent or superficial. Leila Janah, a tech entrepreneur and founder of start-up Samasource, adds, "fashion is expressing my aesthetic sense just as much as our Web site is."
For a basic, yet sharp look, shop for:
•    Knee-length pencil skirts paired with three-quarter length cardigans from J.Crew
•    H&M dresses in dark turquoise, burgundy, cornflower blue and dark purple
•    Stella McCartney, French Sole and Tory Burch flats in black and camel
•    The Limited's bow and tie blouses, cashmere V-neck sweaters and classic flare pants
•
Don't Dress for Sex
Maintaining a wardrobe for all needs can be costly. Approach your closet so that certain pieces can be interchangeable. If you favor dresses on the sassier side, pull on a pair of black tights and throw on a jacket to lessen the sex appeal. Express is the fashion authority for trendy and professional multi-purpose pieces that can be mixed and matched depending on the occasion. Adopt staples like buttoned cardigans in a variety of colors or a striped ponte knit one-button blazer that you can throw on over a sleeveless dress or transparent blouse.
Scarves are another fashionable solution that can cover necklines that are too exposed. Tie on a floral-printed wool scarf in hot pink or silk square scarf from J.Crew. J.Crew's various cashmere wraps in black and flax are also excellent pieces for enhancing the professionalism of a dress or blouse. Collect beautiful Madewell scarves that are available in a variety of prints and patterns such as paisley, Parisian, city block and water flower. With layers, you can ditch the sweater or blazer for post-dinner drinks with friends or a date.
Keep in mind that if you're questioning a skirt or unsure about a blouse, then you should most likely drop the idea. MarieClaire.com suggests to avoid the following:
•    Low-cut and see-through blouses
•    Mini skirts
•    Visible bra straps, thongs and underwear
•    Strapped sandals
•    Stilettos
Your clothes should portray the right image and not distract from business goals. Colleagues, clients and customers should want to trust your judgment and identify you by your skills — not your physical assets.
As a contributing journalist to numerous Home and Community blogs, Danielle Smiley covers topics ranging from design and environmental awareness to education, health, fitness and food. When she is not on Twitter or writing, she spends her time with her Great Dane, Bravo Charlie. Connect with Danielle on LinkedIn, Google+, and Twitter.