I struggled with a crippling public speaking disorder as a kid. I saw no crueler form of punishment than that of a public presentation. My dad would try to console me with a pat on the back and some tender fatherly advice to "just picture everyone in the crowd in their underwear!" That guidance never failed to squeeze a giggle out of my seven-year-old self and my trivial fears were assuredly assuaged.
Why are we always told to picture people in their underwear as a way to relax in front of a crowd? Perhaps it's the sheer ridiculousness of a scantily clad audience, inappropriately dressed for the occasion. Who can withhold laughter at the thought of such a fashion nightmare?
And while picturing that scene may boost your spirits and calm your nerves before delivering a speech, we would never wish for you to be the victim in such a sad story. While not quite as humiliating as being stuck in your underwear at a public event, arriving to a business affair wearing something too formal or too casual can be horribly embarrassing. So we're here to help guide you on the differences between business formal and business casual—and how to look fabulous in either one.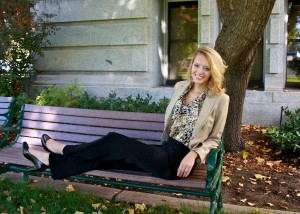 Business Formal/Professional:
What is it?
This refers to the traditional conservative business suit made up of a jacket and either pants or a skirt. It's smart to have a three-piece suit (jacket, skirt, and pants) of a dark solid like black, navy, or charcoal. Business formal attire can seem a little stuffy and boring at times (because it is) but never underestimate the power of a professionally dressed woman.
When to wear it:
Interviews – as long as it's with a company that requires business casual or business formal.
On the daily if you're working with a company that requires formal attire.
Formal meetings or presentations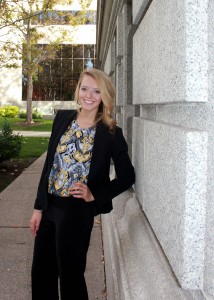 How to rock it:
Jackets: The key for women dressing in business formal or professional attire is to find a suit that is fitted to a woman's body! I can't think of many things I hate more than manly business suits. Roadwork and construction are pretty miserable too but I would much rather be stuck in traffic than stuck in an awfully fitting business suit that could be worn by a small man. Look at the stitching and seams on your jacket, skirt, and pants. Don't hesitate to have a suit tailored if you can't find one off the racks that fits you perfectly.
Pants: Make sure your pants are hemmed at the right length for the shoes you plan on wearing. For my fellow klutzes out there, pants that are too long are a serious safety hazard. I wish I hadn't learned this one the hard way.
Skirts: Look for skirts that are loose enough for comfortable walking and fall around the knees. A little too much leg can kill a first impression.
Blouses: Collared shirts are the traditional piece worn in business formal outfits, but silks, crisp cottons, and turtlenecks are great options too.
Stockings: Pantyhose can be worn in the winter with skirts to keep warm as long as they don't look too scandalous for the office (ahem, fishnets) but aren't required in warmer seasons (thank goodness).
Shoes: Heels or flats are both great options, but keep the heel under 3 inches. Try to keep colors basic and plain. I'm fairly tall already but I love wearing heels and being taller than the guys at work.
Accessories: Keep it basic. Nothing too flashy. A simple watch and a nice pair of earrings are usually perfect.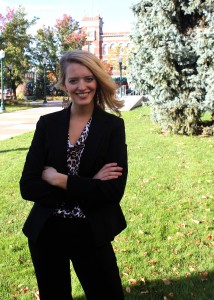 Business Casual:
What is it?
Freedom! Business casual is all about freedom. Think classy, colorful, and far less conservative than your traditional business professional attire. Your personality gets to shine a little here. Have fun with it.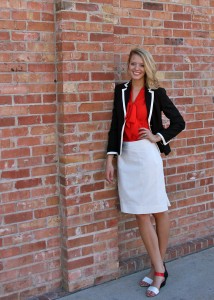 How to rock it:
Tops: Polo shirts, silky blouses, sweaters, cardigans, lightweight jackets and blazers are all go-to options! You can experiment with colors, prints, and textures as long as you retain a professional feel.
Pants: Slacks worn in the business professional environment are welcome here. I'd also wear khakis or otherwise colored pants. Try a cropped cut for a lighter feel. Show off those ankles!
Skirts: Keep skirts modest but try something beyond your basic black. A colorful skirt paired with neutrals on top is always a great option.
Stockings: Only if you feel so obliged. I don't think that day will ever come for me.
Shoes: Heels or flats are still great, but you now have the option to play around with colors and prints! Some people say that open-toed shoes are a big no-no but I think they are acceptable in more casual environments. It's up to you, but if you make the leap be sure to pair it with a great pedicure.
Accessories: Watches, belts, scarves, earrings, necklaces, and bracelets are all welcome in a business casual environment. Take advantage of this! Don't drape yourself in jewels but incorporate a few pieces into your outfit. A great accessory is the cherry on top of a beautiful outfit.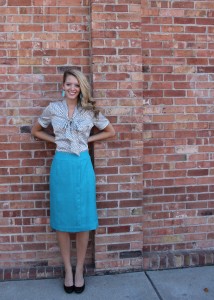 What to avoid in formal and casual settings:
Chipped nail polish
Chewing gum
Wrinkles
See-through clothes
Unkempt hair
Sparkles, glitter, and studs
Hair colors that don't appear naturally appear in nature
Noisy jewelry
Be sure to check with your company's dressing handbook and make sure that whatever you're wearing is aligned with company policy. Always remember to have fun with your business clothes! There is no need to sacrifice good style in the name of professionalism.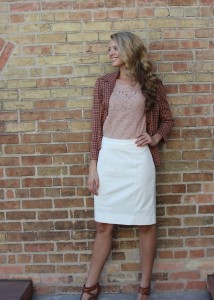 P.S. For the concerned readers out there, I have since recovered from my public speaking fear after hearing Diva by Beyoncé. Yes, I did go through a short bout with a diva attitude awhile back but I'm better for it. I guess it turns out that many years of being awkward and one year of being a diva paves the way for a happy and confident adulthood. Win.
P.S.S. Please accept my sincere apologies for all of the pictures of myself in this post. Maybe I am still more of a diva than I'm willing to admit.
Zoe is a marketing student at Brigham Young University. She enjoys fashion, kickboxing, and baking. You can visit Zoe's blog at zoenoellerichmond.com