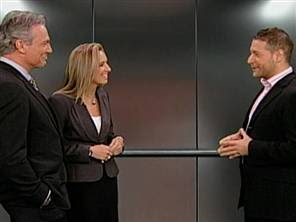 So you're in the elevator and in walks the person you've wanted to talk to for months. The person that could give you the advice or resources you need to take your business to super-stardom. In this moment of truth, what do you say?
This situation of off-the-cuff networking can happen at any point and you want to be ready. There are times where you will have just 30 seconds of someone's attention to tell them about your business and get them interested. This is why an elevator pitch is so important.
Here are some tips for making your elevator pitch unique, engaging, and effective:
Keep it simple. You only have a few seconds and so you need your message to be clear. Get straight to the point, don't waste time talking about things they may not understand or care about.
Be unique. Find something about your business that is different from anyone else. This will peak the interest of whomever you are talking to and possibly lead to more time with them if they want to hear more about it.
Be consistent. Make sure that everyone in your company is saying the same thing and make sure you are consistent when speaking to others as well. You don't want to create confusion about your brand. It may help to write it down and practice.
Solve a problem. When you show how your business helps solve a problem, people will want to know more about your services. You make it easy for them to want to work with you.
Be passionate. This is what you do for a living. You need to show how passionate you are about this business every time you tell people about it. It will get them excited and want to know more.
Following these steps will help you create an elevator pitch that is sure to hold the interest of whoever you end up talking to, whether in a large group, on the bus, or in an elevator.