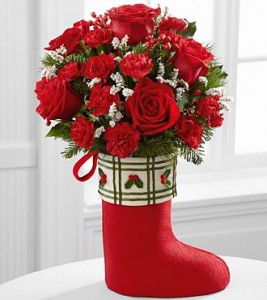 Among storefront holiday decorations and sung Christmas carols; your home office or workplace doesn't have to be neglected during the happiest time of the year. Craft a festive decoration for your desk, listen to yuletide music and treat co-workers with melt-in-your-mouth holiday sweets.
Create a jolly and merry work environment this season with the following ideas:
Desk & Office Decorations
Surround yourself with holiday cheer by adorning your workspace with a few festive accents. To avoid a distracting and tacky work area, decorate your office or desk minimally; approach the decorating process with the goal of quantity over quality. Liven your space by setting fresh and sweetly scented Christmas flowers on top of your desk. A beautiful medley of roses, amaryllis, candy canes and holly create the right amount of holiday decor throughout the month of December.
Get into the spirit of the season while working with the following decorative ideas and DIY crafts:
USB LED Christmas Lights: String white lights around your computer monitor or surround the walls of your cube with color-changing bulbs. Lights easily plug into a USB port and brighten up workspaces for a twinkling and magical ambiance.
Paper Evergreen Trees: Craft your own paper evergreens to set on your desk as simple, yet stylish, holiday decor. MarthaStewart.com provides easy how-to instructions for constructing a large and small evergreen using stock paper in two different colors of green.
Christmas Candy Buffet: Create a candy spread in your office by filling jars with festive sweet treats. Vases, mason, and glass jars with lids can create a charming arrangement. Fill jars with red and white peppermints, mini candy canes, mint M&M's and striped lollipops.
Secret Santa Exchange
Invite your team to participate in a secret Santa exchange and holiday gathering to celebrate the season. Keep in mind, the holiday season can be an expensive time of year, and a Santa gift exchange doesn't have to break the bank. The idea is to give and receive small festive gifts that spread holiday joy throughout the workplace. Serve punch, appetizers, and cookies, and your gift exchange will be a cheerful event for your colleagues to enjoy.
To plan for your secret Santa, establish an affordable price range. Between $10 to $15 is generally an appropriate price range for office gift exchanges. Gather the names of everyone who's participating; understand that not everyone is entitled to join. Each participant will blindly select someone to anonymously purchase a gift for.
If you're unsure about what to get someone who you're not close with, the following ideas make excellent gifts:
Drinking Buddy Wine Charm and Stopper Set (UrbanOutfitters.com, $12)
Illume Boulangerie Jar candle (Anthropologie, $16)
Coffee-embossed mug (Crateandbarrel.com, $6.95)
Painterly Woodland Owls Boxed Notes (PapyrusOnline.com, $9.95)
Candy Cane Lane Shampoo, Shower Gel & Bubble Bath (Sephora, $16)
Themed secret Santa exchanges are also a fun twist during the holiday tradition. For example, ask that everyone bring homemade Christmas cookies or holiday treats to give. Other theme ideas include DIY crafts or ornaments.
Holiday Cards
Sending cards are a classic holiday custom that spreads seasonal joy, whether you customize cards online or handwrite messages in traditional cards. Whether you pass out holiday cards to your department or entire office, the festive deed will make your colleagues smile. Minted.com offers an extensive collection of stylish holiday appropriate cards that are vintage, funny, rustic or modern. Customize cards by choosing among different formats, signature paper, shapes and colors. Snapfish is another photo service that offers personalized holiday photo cards. Choose among various borders, graphics and colors. Also, since everyone doesn't have the same religious beliefs, make sure to pass out cards that have a secular message and design.
For work-related holiday cards, try to follow these themes:
Season's Greetings
Happy Holidays
'Tis the Season for Cheer
Have a Jolly Holiday
Sending Holiday Cheer
Warm Wishes
With a small amount of time and a little creativity, you can pass out holiday cards to co-workers on any budget.
Holiday Music Playlists
Join in the holiday season by playing Christmas music during your daily commute to and from work or while traveling on business. Whether you create iTunes playlists or sync music through Spotify, listening to holiday tunes is one of the best ways to be jolly and cheerful.
For various types of holiday music, check out the following albums:
"A Very She & Him Christmas" (Folk and Indie renditions of "Sleigh Ride" and "Rockin' Around the Christmas Tree")
"Christmas with the Rat Pack" (Yuletide favorites sung by Frank Sinatra, Dean Martin and Sammy Davis, Jr.)
Lady Antebellum "On This Winter's Night" (Christmas classics such as "Silver Bells" and "I'll Be Home for Christmas" with a country and pop sound)
"A Very Special Christmas 25th Anniversary" (Favorite carols sung by popular artists, including Dave Matthews, OneRepublic, Martina McBride and Jordin Sparks)
Trans-Siberian Orchestra's "The Lost Christmas Eve" (Progressive rock band performing Christmas songs with elements of classical, orchestral, symphonic and heavy metal musical elements)
For the working gal, Christmas albums and playlists are a reminder to enjoy the busy season amongst business meetings and holiday stress.
Festive Sweets & Snacks
Share holiday joy with your office by bringing in festive foods or desserts. Cooking and baking a holiday recipe to share with your workplace will not only please the palate of your co-workers but create a blanket of cheer throughout the office. A plate of sweets is also a thoughtful gift to give to business partners, important clients, and close colleagues.
Christmas Tree Cheese Platter: Co-workers will love snacking on a variety of cheese cubes in the shape of a Christmas tree.
Gingerbread Popcorn: Bags of gingerbread popcorn are great gifts to give to clients and customers at your next business lunch. The recipe by EasyToBeGlutenFree.com includes sweet staples such as molasses, ginger and cinnamon. It's a mouthwatering snack that satisfy sweet cravings, especially during this special time of year.
Candy Cane Brownies: Candy cane buttercream frosting and homemade brownies are delightfully festive treats perfect for a holiday office potluck. Your co-workers will gush over the delectable taste of crushed candy cane blended with the taste of semi-sweet cocoa.
Serve candy cane brownies on a holiday-decorated dish and bag gingerbread popcorn tied with a red and green ribbon; the festive homemade treats are guaranteed to make your co-workers smile.