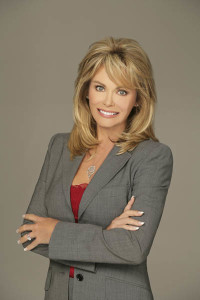 "The important thing is not being afraid to take a chance. Remember, the greatest failure is to not try. Once you find something you love to do, be the best at doing it."
Those are the words of one of America's foremost female entrepreneurs and authors, Debbi Fields Rose. Her story, chronicled in her memoir, "One Smart Cookie," is a tale of a bold underdog that brought to life a business that nearly everyone told her couldn't work. Since her massive success with creating a national chain of cookie stores, Debbi has remained the face of Mrs. Fields, publishing multiple books and inspiring millions of young entrepreneurs.
The Origins of Mrs. Fields Cookies
A lot of kids grow up spending time in the kitchen. But few are so dedicated to their baking hobby that they get a part-time job to pay for their own ingredients. This was just a hint of the dedication it would take to turn a lifelong passion into a thousand dessert franchises of possibly the most recognized cookie company on the planet.
Debbi's success is significant, given that she received significant discouragement from family and friends, many of whom told her that she had no business starting her own company. She had no formal education to speak of, no money of her own to start the business with no product except cookies (I think they rather underestimated America's sweet tooth.). At the age of 20, Debbi ignored the criticism and pushed forward to open a store in Palo Alto that would eventually be a $450 million leader of freshly-baked cookies.
Beyond Business and into Philanthropy
Debbi sold the business in the 1990s. And while she is still the public face of the company, she has since turned her talents and leadership ability to charitable ventures. She sits on the Le Bonheur Foundation's board, served as the 2010 "GO RED" chair for the American Heart Association and recipient of the Toastmasters' Golden Gavel Award.
Debbi isn't done leading in the business community, however. She'll be speaking at the Women Entrepreneurs Inspire Conference on April 2, 2013 at Oklahoma State. She'll be sharing lessons learned from her years in business and charity work, as well as the special challenges that female entrepreneurs face today.
Lately, Debbi is hard at work in her kitchen creating her newest cookie book, The Best of Debbie Fields Cookie Jar, a collaboration involving her daughters that is sure to be a new best seller.
Given her impressive bio, it's no surprise to hear that Mrs. Fields company motto reads "Good enough never is." Quality has always been a hallmark of the Mrs. Fields brand, and that is directly attributable to its founder's focus on perfection. It says a lot about her personality and about the driving force behind her success in business and philanthropy
Author bio: Joseph Wright writes for Mrs. Fields, the top name in gourmet cookies since 1977. Mrs. Fields has a new show airing on Lifetime this season called "Supermarket Superstar". A competition series that mentors and gives home cooks the chance to launch their products on Supermarket shelves nationwide.  She is also hard at work on her next book, "Debbi Fields…More than Cookies!" This book is filled with tantalizing recipes blended with her philosophy of excellence. Debbi's five daughters, Jessica, Jenessa, Jennifer, Ashley and McKenzie are taking an active role in contributing to the new book and are chipping away on the development of their new business "The Fields Girls" which creates recipes and proprietary products for anyone who loves to eat or bake homemade goodness. You can learn more about Debbi Fields and the company she built at MrsFields.com.