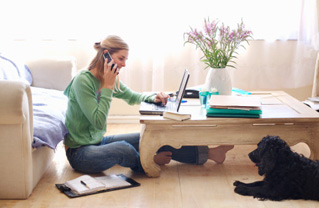 Telecommuting offers you many freedoms—you can work from home, while traveling, from a coffee shop or park, and you can work flexible hours. However, the freedom of telecommuting presents some at-home challenges that you don't face in a traditional office environment.  Here are ways to overcome the challenges you face when telecommuting.
Create a Workspace
If you work from home it is important to create a workspace that has everything you need to be productive. If possible set up an in-home office space or a desk that is all yours. If you are working in a shared space, ensure that you have an area to keep the tools you need to be productive.  This could be file cabinets, office supplies, printer/scanner, or private telephone line.
Set a Schedule
You may be telecommuting because it offers you the ability to have flexible work hours, but it is still important that you set a clearly defined work schedule. When you telecommute it is easy to get in the habit of saying "I'll do it later," but later turns intotomorrow.
Your schedule does not need to be the same each day or each week, but it does need to be clearly defined. Make sure that you are up by a set time each day (even if you're not showered and dressed) and limit your breaks to no more than one hour when possible. Stick to your daily schedule to maximize your productivity.
Limit Distractions
This one can be especially challenging when working from home for a variety of reasons.  A movie is on that you want to watch, it's nice outside, or your family is home. Limit distractions by closing personal email, disabling personal phone alerts, resisting the temptation to check social media, turn off the television in the background, and stick to your daily schedule.
Another challenge of telecommuting is helping your friends and family understand your work schedule.  Oftentimes our loved ones make the mistake of thinking we are "at home" and not "working at home." This can lead to distractions from lengthy phone calls or unexpected visits during work hours. While you may be able to enjoy some of these distractions on occasion, you still have work to get done. As difficult as it may be, set clear boundaries with your loved ones so that they understand that while you may be at home, you are also at work.
Hold Yourself Accountable
When you work in an offsite office you are less likely to take personal calls, surf the web, or do other time-wasting activities. This is in part because you don't want to waste the company's time and money and in part because you don't want to get caught. When you are at home the only person who truly knows how you are investing your time is you. This means you have to be the one to hold yourself accountable. If it helps set a goal for the amount of tasks you would like to complete each day and don't end your work day until all tasks have been completed.
Telecommuting is often most challenging the first few months while get into the groove of your daily routine. Once you learn to create a schedule, system for productivity, and learn how to hold yourself accountable you will be able to truly enjoy all the freedoms that telecommuting can offer.
About the Author:
Jan Meyers is a published author and freelance resume tips researcher – she suggests searching through the
banking jobs with moneyjobs.com
 listings to see if any fit the criteria for a telecommuting position. Although, most often, a company will bring on a new employee and allow them to work from home later down the line – to get a better idea of these types of jobs, click over to
moneyjobs.com
 right now.