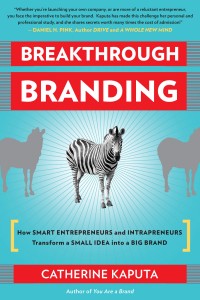 Today we are featuring a book that we know will be a huge resource to anyone looking for help with branding. This is one of those things that can be extremely daunting and often it's hard to know where to start. Catherine Kaputa addresses this issue in her book Breakthrough Branding and gives mini case histories of dozens of brands to demonstrate what makes a brand thrive.
The book provides tools and steps that will help you mimic tactics of brands such as Red Bull, Groupon and Trader Joe's. It shows how successful companies begin with three things: an entrepreneur, a winning idea and a smart brand strategy.
With the help of this book you can learn how to narrow the focus of your product or service, standout from other brands, create a company personality and place yourself as superior to your competition. All of this can be done with the right banding strategy.
Daniel H. Pink, author of DRIVE and A WHOLE NEW MIND, also read the book and said, "Whether you're dying to launch your own company, or are more of a reluctant entrepreneur, you face the imperative to build your brand. Catherine Kaputa has made this challenge her personal and professional study, and in this book she shares secrets worth many times the cost of admission."
Breakthrough Branding truly has something for everyone and teaches you tactics that are up to date with the latest social media strategies. Take it from us, this is a book that is worth reading.
So, if you find yourself wanting to rebrand your company or if you are just starting out, check out Catherine's book.