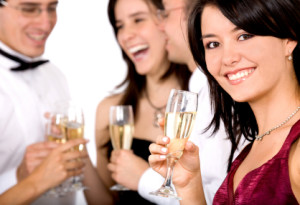 The question of appropriate evening dresses for women in business can be a perplexing one. Standards for dress vary greatly in various regions of the country. What might be suitable in a large urban community like New York City might be frowned upon in more conservative heartland communities. Women in business must be especially careful to ensure that their apparel strikes the right note of both professionalism and suitability. A few tips can help you choose the right evening dress for the occasion.
Season
The season when the event is held may have a bearing on the type of gown you choose. Warm weather requires a lighter-weight fabric and paler colors. You may be tempted to choose one of the fashionable strapless gowns, such as those that are available at http://www.flirtprom.com/. However, no matter what the temperature, be aware that a business event may not be an appropriate occasion to show deep cleavage or a plunging back without causing a great deal of unwanted comments. A lacy shrug or wispy shawl can give you just enough coverage to show your colleagues that not only do you have it; you know when and where to flaunt it.
Region
The region in which the event is held can make a big difference to your choice of eveningwear. Your corporate offices may be in Los Angeles, but travel is part of the businessperson's lifestyle. You may find yourself in a smaller city in the middle of the country or a mansion event deep in the South. Research the culture of the area you will be visiting to get an idea of the style of gown that is appropriate for an evening event. Again if promoting a professional image for your company is part of your duties, err on the side of conservative wear. A cocktail dress with a fitted jacket can be worn almost anywhere, and the jacket can be removed to show a bit of shoulder or décolletage. Basic black or beige may be too severe for some areas of the country. Try a navy blue, champagne or rose color to look striking but not overpowering.
Occasion
Some business occasions are more lighthearted than others, and you should keep the type of occasion in mind when choosing a gown. A holiday business event is likely to be a cheerful and easy-going event. However, an occasion such as a charity event in which your company is traditionally involved may have a more serious tone. Some business conferences can require your most serious attitude. If your company is involved in political events, you should lean toward a more conservative approach. The degrees of dressiness can be a tricky matter. If possible, speak with someone that has attended previous events of the same type. She will be able to give you a clearer idea of the apparel required. For black-tie events, your dress can be short, tea-length or floor-length, but regardless of length, it should have an air of elegance and fashion. You can generally be flexible with color for formal eveningwear, but traditional neutral tones give the most professional effect.
Though women in business often much give additional consideration to a variety of different issues when choosing an evening gown, these essential tips can help to reduce the margin for error in eveningwear decision-making.