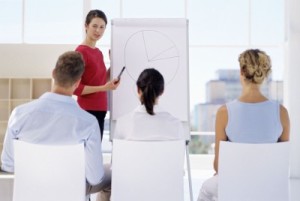 When giving a presentation, it's important to understand your ultimate goal. What are you hoping to accomplish by presenting to others? Most often, you want your audience to learn something new: something they weren't aware of before, something they didn't understand entirely, or something they had a different perspective on.
To increase presentation effectiveness and to help your audience learn, it is crucial that you find ways to keep them engaged. Engagement during a presentation entails not only giving people a new level of understanding, but using tactics that will help them remember the key points and act upon them long after the presentation is over.
Follow these presentation guidelines the next time you find yourself speaking in front of others to create stronger engagement:
1.     Ask questions.
This keeps your audience interested because they have a reason to pay attention. It not only increases engagement, but reinforces key points and helps the information resonate.
2.     Avoid yes or no questions.
It is best not to ask questions that can be answered with simple yes or no, but rather those that are open-ended. These allow for more thoughtful contributions and involvement.
3.     Create additional participation opportunities.
In addition to quizzing your audience, think of creative ways to get the audience involved. You can ask for a show of hands or for a personal anecdote that relates to your presentation.
4.     Respect every question and comment.
Your audience will relate to you better if you understand where they're coming from. If someone answers a question incorrectly, acknowledge why you understand their response and politely correct them.
5.     Engage with your voice, face, and body language.
It's easy to learn your presentation so well that your speech and movements become robotic. Make sure that you speak naturally and show your personality.
6.     Make eye contact.
People will respond better if they feel they are being addressed personally. Address individuals in the room for a few seconds at a time as a way of acknowledging their attention.
7.     Be conversational.
Make it clear that this is a two-way dialogue, and that you are open to comments, questions, and opinions throughout the presentation.
8.     Use visuals.
Keep in mind that not everyone processes ideas in the same way. Visuals can help ensure greater understanding, create variety, and keep people interested.
9.     Keep the pace moving.
Presentations are often most effective when they move quickly. The more frequently you change the subject matter, the less likely your audience will disengage.
10.  Limit the information on one topic.
Assuming you have slides for your presentation, limit the text per slide to keep them easy to read. More details aren't always necessary to get your point across and can cause your audience to lose focus.
11.  Keep the conversation going.
Not only should the presentation itself be a place for dialogue, but consider scheduling follow-up meetings or future activities to remind people of your message.
12.  Be engaged yourself.
Not only should you ask and answer questions, but be attuned to the audience vibe. You will recognize when clarification is needed and when to move on to the next point. Moreover, if you feel passionate and engaged with the material, your audience will notice and be more interested in what you have to say.
 This article was written by Dale Carnegie Training, a company founded in 1912 by one of America's most influential speakers and leaders. Today, the company offers corporate training, and helps both businesses and individuals achieve their goals. Visit Dale Carnegie Training online to learn more about management training programs.